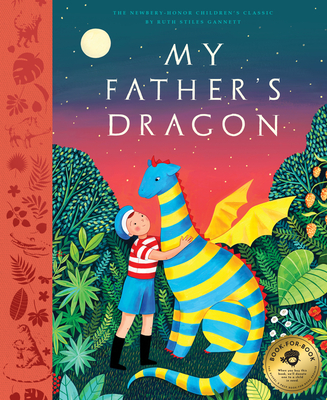 My Father's Dragon: A Deluxe Illustrated Edition of the Beloved Newbery-Honor Classic
Publication Date:
April 6th, 2021
Publisher:
Bushel & Peck Books
Description
Deluxe, illustrated edition of your childhood favorite with all-new, full-color paintings
One cold rainy day when my father was a little boy, he met an old alley cat on his street. The cat was very drippy and uncomfortable so my father said, "Wouldn't you like to come home with me?" This surprised the cat--she had never before met anyone who cared about old alley cats--but she said, "I'd be very much obliged if I could sit by a warm furnace, and perhaps have a saucer of milk."
For decades, the classic tale of My Father's Dragon has won the hearts of kids and adults worldwide as a Newbery-Honor book, a Netflix film, and even a play. Now, as a picture book form for the first time ever comes the enduring story of Elmer and his beloved dragon, the tangerines, the tigers and the chewing gum, the clever escape, and of course, the enduring friendship.
In this beautiful deluxe edition, the original text by Ruth Stiles Gannett and black and white illustrations by Ruth Chrisman Gannett are paired with exquisite new paintings by illustrator Helen Perez Garcia to create a timeless treasure that all ages will enjoy.