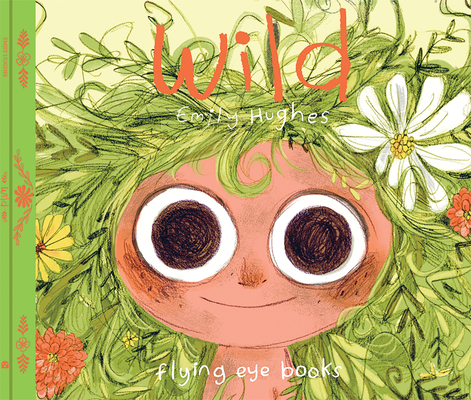 Wild
Publication Date:
September 10th, 2013
Publisher:
Flying Eye Books
Second Star to the Right
2 on hand, as of Sep 29 5:51pm
(Picture Book )
On Our Shelves Now
Description
"You cannot tame something so happily wild."
In this beautiful picture book by Emily Hughes, we meet a little girl who has known nothing but nature from birth—she was taught to talk by birds, to eat by bears, and to play by foxes. She is unashamedly, irrefutably, irrepressibly wild. That is, until she is snared by some very strange animals that look oddly like her, but they don't talk right, eat right, or play correctly. She's puzzled by their behavior and their insistence on living in these strange concrete structures: there's no green here, no animals, no trees, no rivers. Now she lives in the comfort of civilization. But will civilization get comfortable with her?
In her debut picture book, Hughes brings an uncanny humor to her painterly illustrations. Her work is awash with color, atmosphere, and a stunning visual splendor that will enchant children while indulging their wilder tendencies. Wild is a twenty-first-century answer to Maurice Sendak's children's classic—it has the same inventiveness, groundbreaking art, and unmissable quirkiness.
Praise for Wild
Best Children's Book of 2014, Brain Pickings (The Marginalian)
"Wild by Emily Hughes relies on its lush, almost rough art to convey a story about belonging and being different. When a little girl raised in the woods it taken into 'civilized' society, mayhem and torn upholstery follow in her wake."
—The Horn Book
"Love, love, love! The illustrations are just incredible. I love the feel of the paper and the way that each page is so deliciously detailed. The eyes on the main character are huge and expressive throughout. I love her mossy wild hair, her knit brows and her determined stance. Her ability to wreak havoc in her unhappiness is amazing – just as her joy radiates off the page when she is truly, wild and free. I must share this with my students and see what they think."
—There's A Book For That
"...for my money it's one of the most brilliant picture books of 2013."
—Scope Notes at The School Library Journal
"[...] the imagery is beautifully intricate and full of subtle details, it's a pretty straight-forward story that anyone can follow [...] It's a great reminder for us not to take ourselves too seriously and give the wild animals in us a little room to breathe."
—The New York Public Library
"An irreverent, charming, and oh-so-delightfully illustrated story, partway between Kipling's The Jungle Book and Sendak's Where the Wild Things Are. […] Wild is one of the loveliest and most endearing picture-books I've seen this side of the century."
—The Marginalian
"One of our favorite books of the year."
—The Metro
"I've never see such an accurate illustration of a child who feels she is the victim of an injustice or stupidity. Hughes' style is vivid and lyrical."
—Joy Corcoran
"The beautiful artwork and simple text reveals the happy wildchild of nature who lies dormant in all of us, and we are encouraged to understand and respect those who are different."
—Foreword Reviews, 10 Best Indie Picture Books of 2014
"This is a gorgeously illustrated and elegantly narrated picture book about a wild little girl who is raised by animals and then brought back to civilization. It's an engaging picture book for adults to read with children. Wild reminds me what childhood can feel like for a child."
— The Picture Book Review
"It's hard to put into words exactly how terrific this picture book by Emily Hughes is and why. Perhaps it has to do with the beautifully rendered illustrations and the way they depict the cosiness and warmth of the forest, and how it embraces the little girl as one of its own. Or perhaps it has to do with how it speaks to the deep-seated longing that everyone has, to be if not exactly wild then certainly FREE
free to be yourself, to do what you really want to do in life."
— Picture This Book
"Have you ever opened a book and just felt mesmerized by the art and attention to detail? Emily Hughes gorgeously illustrated children's books are precisely that. They are simple stories completely elevated by her distinctive, detailed artwork. There's so much of story-telling and setting of the scene that are hidden in the detail of her illustration. The words are sparse and only a few making it easy for new readers to absorb the essence of the story without feeling overwhelmed. When I re-read her books, I was able to glean even more nuance and rich detail captured in her drawings. The illustrations are so wonderfully vivid that I would totally love to have some of the spreads framed and hung on my wall."
—Varsha Ravi, Between Bookends