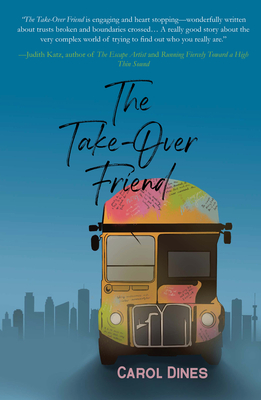 The Take-Over Friend
Publication Date:
September 27th, 2022
Second Star to the Right
1 on hand, as of Nov 28 2:21am
(Young Adult )
On Our Shelves Now
Description
"A really good story about the very complex world of trying to find out who you really are."—Judith Katz, author of The Escape Artist and Running Fiercely Toward A High Thin Sound
On the second day of ninth grade, introverted Frances meets Sonja, a wildly funny newcomer from France, and the girls form a fast friendship. Frances adores Sonja's worldliness, and Sonja adores Frances's family, especially her older brother, Will. Frances and Sonja immediately declare themselves "The Poets" and rally their homeroom to enter the homecoming parade with a poetry-mobile built from Frances's father's old band bus. But respective family crises begin to escalate, and tensions come to a head when Sonja temporarily moves in with Frances's family—forcing each friend to decide how close is too close. Alternatingly funny and poignant, The Take-Over Friend is a smart page-turner that focuses on the importance of finding your own voice in relationships.
Praise for The Take-Over Friend
"Equal parts wry and heartbreaking, The Takeover Friend deftly and seamlessly weaves a compelling story about the complex nature of adolescent friendship with a deep and thoughtful dive into the impact of mental illness on one family. In Sonja, Carol Dines has created an unforgettable character who is at once both delightful and infuriating and also utterly irresistible. A timely, moving, and thought provoking novel." —Gary Eldon Peter, author of Oranges and The Complicated Calculus (and Cows) of Carl Paulsen
"Carol Dines perfectly captures the intoxication and relief that can be found in an intense new friendship, along with the little warning signs that are easy to dismiss when all one wants is to be swept up in the thrill of that bond. Narrator Franny is both vulnerable and wise, self-doubting and self-aware, and her family, with its imperfections and unshakable love, will quickly become as real to readers as their own. When charismatic Sonja finds their fissures and uses them as points of entry, it's hard not to worry for everybody and impossible to stop turning pages. The Take-Over Friend is a beautiful, layered novel about what can happen when we ignore our own inner wisdom. It will live inside readers long after they reach the last page." —Ona Gritz, author of Present Imperfect and Tangerines and Tea and Starfish Summer
"Thank you for the pleasure of reading The Take-Over Friend! How many of us have fallen for that teenage friendship, alluring and dangerous all at once! The Take-Over Friend is engaging and heart stopping -- wonderfully written about trusts broken and boundaries crossed…A really good story about the very complex world of trying to find out who you really are." —Judith Katz, author of The Escape Artist and Running Fiercely Toward A High Thin Sound
"This book is for everyone who's ever longed for, loved, lost, or been betrayed by a friend. All the sweetness, sorrow, joy, pain, and anguish of friendship found and lost is layered into this luscious cake of a story. Slathered with suspense and liberally sprinkled with humor, it's so deliciously bittersweet, you're likely to gobble it up in one sitting."--Margi Preus, Newbury Honor author of Heart of the Samurai, Village of Scoundrels, and Lily Leads the Way
"The Take-Over Friend rings with authenticity. It's an honest and moving look at the difficulties and rewards of friendship, the love and complications of family, and the joy and uncertainty of growing up. Carol Dines treats challenging subjects like mental illness and its impact on friends and family members with nuance and depth. I read the whole book in one totally immersive sitting, rooting for Franny. She's a character you hold close in your heart." —Eve Yohalem, Author of Escape Under the Forever Sky and The Truth According to Blue