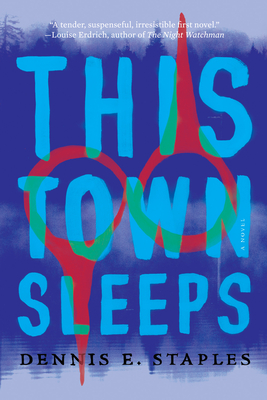 This Town Sleeps
Publication Date:
March 16th, 2021
Second Star to the Right
1 on hand, as of Nov 28 6:21am
(Adult )
On Our Shelves Now
This Town Sleeps, set on an Ojibwe reservation in northern Minnesota, is not an elegiac or idyllic work but rather a direct, unblinking, poetic novel that draws the reader inexorably into the gray areas of the hearts of those in this story. A queer coming-of-age story bound up in a town mystery, this tale of Marion Lafournier, a young gay Ojibwe man, is a compelling debut. Dennis E. Staples is an author whose voice and storytelling will be appreciated in so many ways for years to come.
March 2020 Indie Next List
Description
A "tender, suspenseful, irresistible first novel" that explores Indigenous legend, queer relationship, and the power of landscape and lineage to shape our lives (Louise Erdrich, author of The Round House).

An unsolved murder becomes the fixation of an Indigenous American man living in far northern Minnesota as he grapples with his relationship with a closeted white man.
On an Ojibwe reservation called Languille Lake, within the small town of Geshig at the hub of the rez, two men enter into a secret romance. Marion Lafournier, a midtwenties gay Ojibwe man, begins a relationship with his former classmate Shannon, a heavily closeted white man. While Marion is far more open about his sexuality, neither is immune to the realities of the lives of gay men in small towns and closed societies.
Then one night, while roaming the dark streets of Geshig, Marion unknowingly brings to life the spirit of a dog from beneath the elementary school playground. The mysterious revenant leads him to the grave of Kayden Kelliher, an Ojibwe basketball star who was murdered at the age of seventeen and whose presence still lingers in the memories of the townsfolk. While investigating the fallen hero's death, Marion discovers family connections and an old Ojibwe legend that may be the secret to unraveling the mystery he has found himself in.
"Elegant and gritty, angry and funny . . . emotional without being sentimental."
—Tommy Orange, author of There, There
Praise for This Town Sleeps
"Elegant and gritty, angry and funny. Staples's work is emotional without being sentimental. Dennis unmakes something in us, then remakes it, a quilt of characters that embody this town, this place, which sleeps but doesn't dream, or it is all a dream we want to wake up from with its characters." —Tommy Orange, author of There, There
"In this novel we travel to familiar literary terrain: a community-in this case, an Indigenous reservation in northern Minnesota-that is still suffering from the ravages of colonialism and its aftermath. Yet Staples approaches this grand injustice with a fresh intimacy, informing us of the ways it continues to singe people's lives, and how the search for truth-in one's identity, hopes, love-defines them." —The New York Times Book Review
"A suspenseful ride . . . Through a meticulous weaving of backstories and present-day scenes, Marion and other characters who grew up in Geshig must come to terms with what it means to both resist and appreciate the place that roots them." —Shalini Rana, The Arkansas International
"With gentle wit, frank sensuality, and a keen eye for small town and reservation life, Dennis E. Staples debuts a tender, suspenseful, irresistible first novel!" —Louise Erdrich