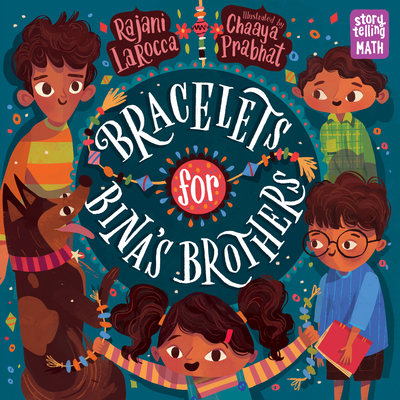 Bracelets for Bina's Brothers (Storytelling Math)
Publication Date:
April 20th, 2021
Usually Ships in 1 to 5 Days
Description
Celebrate diversity, math, and the power of storytelling!
For the Hindu holiday of Raksha Bandhan, Bina is determined to make beaded bracelets for her brothers all by herself. She finds out which colors her brothers like and dislike and sets to work. Working with her every-other-one beading pattern causes Bina to discover something new about patterns--and her brothers.
Storytelling Math celebrates children using math in their daily adventures as they play, build, and discover the world around them. Joyful stories and hands-on activities make it easy for kids and their grown-ups to explore everyday math together. Developed in collaboration with math experts at STEM education nonprofit TERC, under a grant from the Heising-Simons Foundation.
Praise for Bracelets for Bina's Brothers (Storytelling Math)
It's the Hindu holiday Raksha Bandhan, when sisters give brothers bracelets to ask for their protection from harm.
This year, Bina is old enough to make bracelets for her three older brothers: Vijay, Siddharth, and Arjun. To prepare, she asks each brother about their favorite and least favorite colors. At the craft store, Bina and her mother pick out blue, orange, and green beads along with some special beads that represent each of the brother's interests: a book, a basketball, and a pair of musical notes. When they return from the store, and with the help of her dog, Tara, Bina gets to work. For each bracelet, she creates a pattern using the colors that each brother likes—something that can be confusing to remember and results in a few do-overs. Eventually, Bina creates three different bracelets using three different color patterns, each one perfect for her brothers. On Raksha Bandhan, Bina's gifts are a hit—and so is the gift that the brothers give Bina, even if it doesn't necessarily follow a pattern. Basing a plot on Raksha Bandhan, which has come under criticism for its gendered emphasis on girls' needing protection from boys, feels like a strange way to introduce a spunky female protagonist like Bina. Still, the text does seamlessly integrate the mathematical concept of patterning into a fun and accurate modern twist on an ancient religious tradition. The colorful illustrations perfectly capture Bina's impish spirit as well as her love for her family. An author's note expands on both Raksha Bandhan and patterns.
This culturally relevant, STEM-savvy picture book showcases a strong female protagonist.
—Kirkus Reviews
Bina loves her three brothers, even though they can be annoying, and every year, their family celebrates Raksha Bandhan, a Hindu custom that affirms the bond between brothers and sisters. According to the tradition, sisters tie bracelets on their brothers' wrists to protect them, and in return, brothers give their sisters gifts. This year, Bina decides she will make the bracelets herself, using beads of their favorite colors along with an "extra-special" bead to symbolize their unique interests. Here Bina's task takes on a mathematical twist as she arranges the beads using an every-other-one pattern. Readers will enjoy being swept up into Bina's conundrum, along with her constant companion, Tara the dog, as she tries different color combinations of beads. The vibrant colors and perky tone of this culturally specific yet universally appealing book make for a fun read-aloud with a bit of a math lesson sneaked in. Back matter explains Raksha Bandhan and suggests some fun activities.
—Booklist
For the Hindu holiday of Raksha Bandhan, which celebrates the bond between siblings, Bina, who has warm brown skin and dark wavy pigtails, sets out to make her three older brothers—book-loving Vijay, musical Siddharth, and athletic Arjun—bracelets to keep them safe. There's just one thing she must keep in mind: each brother has one color he favors and one that he doesn't. After Mommy helps Bina buy green, blue, and orange beads, the girl sets out to make individualized bracelets, relying on the family dog for emotional support. LaRocca's prose is accessible, with plenty of dialogue, and Prabhat's digital art charms via vivid, dynamic spreads. This latest installment of Charlesbridge's Storytelling Math series proves both educational and appealing. Back matter includes an author's note and an explanation of the patterns involved in Bina's bracelet making.
—Publishers Weekly