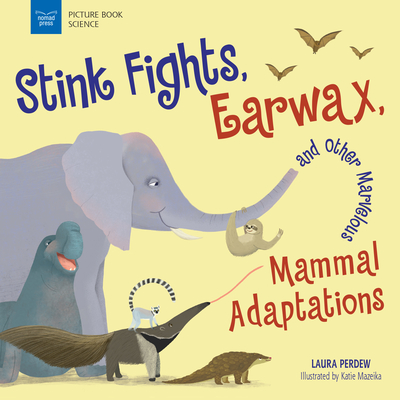 Stink Fights, Earwax, and Other Marvelous Mammal Adaptations (Picture Book Science)
Publication Date:
August 13th, 2020
Publisher:
Nomad Press (VT)
Second Star to the Right
15 on hand, as of Sep 29 6:21am
(Picture Book )
On Our Shelves Now
Description
A nonfiction picture book about the incredible power of bizarre adaptations to keep mammals alive and thriving
In Stink Fights, Earwax, and Other Marvelous Mammal Adaptations, children ages 5 to 8 learn how lemurs settle arguments and how earwax helps a whale's sense of hearing, along with a host of other deliciously strange-but-true tales The lively conversational tone used to deliver information on the unique adaptations of many different mammals engages a child's sense of wonder while introducing the crucial concept of adaptation. A haiku poem at the beginning of the book offers a language-based entry into science details. A great choice both as a read aloud and for early readers who are curious about science.
Stink Fights, Earwax, and Other Marvelous Mammal Adaptations, is part of a set of five books in the Picture Book Science series that explore strange-but-true tales of adaptation. Other titles in this series include Water-Walking, Sidewinding, and Other Remarkable Reptile Adaptations; Antifreeze, Leaf Costumes, and Other Fabulous Fish Adaptations; Spit Nests, Puke Power, and Other Brilliant Bird Adaptations; and Sunscreen, Frogsicles, and Other Amazing Amphibian Adaptations.
Provides layered text and back matter that encourages more in-depth discovery
Promotes a sense of awe and wonder about the natural world
Uses humor to engage children's attention
Promotes cross-curriculum learning through poetry
Includes a hands-on, science-minded project to help support and reinforce deeper learning
Meets Next Generation Science Standards in ecosystems, biological evolution, and heredity for grades K through 2.
About the Picture Book Science series and Nomad Press
Nomad Press books in the Picture Book Science series present real-world examples of science topics kids find fascinating These nonfiction picture books consist of engaging narratives paired with detailed, accurate illustrations and layered text that offers ample opportunity for discussion and reflection. Elementary-aged children are equipped to recognize basic science concepts and identify the different ways they are demonstrated in real life, while being impressed with the idea that science is a constant part of our lives and not limited to classrooms and laboratories. All books are leveled for Guided Reading level and Lexile and align with Common Core State Standards and Next Generation Science Standards. All titles are available in paperback, hardcover, and ebook formats.