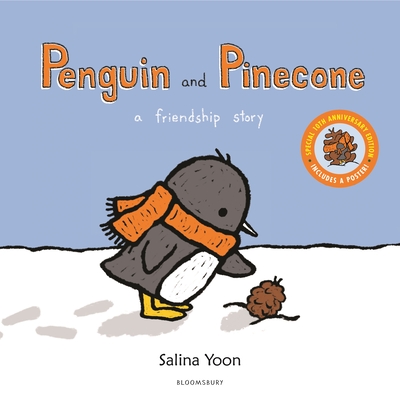 Penguin and Pinecone: a friendship story
Publication Date:
November 1st, 2022
Publisher:
Bloomsbury Children's Books
Usually Ships in 1 to 5 Days
Description
Geisel Honor-winning author/illustrator Salina Yoon's beloved character Penguin has been giving love -- and growing -- for ten years! This special new edition is the perfect gift for Penguin fans new and old!
When you give love... it grows.
When curious little Penguin finds a lost pinecone in the snow, their friendship grows into something extraordinary! But Grandpa reminds Penguin that pinecones can't live in the snow--they belong in the warm forest far away. Can Penguin help Pinecone get home? And can they stay friends, even if they're miles apart?
Prolific author/illustrator Salina Yoon's spare text and bright, energetic illustrations bring to life this endearing story celebrating friendships lost and found, and overcoming the odds to be with the one you love. This sweetly quirky friendship story will warm your heart!
Don't miss these other books from Salina Yoon!
The Penguin series
Penguin and Penelope
Penguin on Vacation
Penguin in Love
Penguin and Pumpkin
Penguin's Big Adventure
Penguin's Christmas Wish
The Bear series
Found
Stormy Night
Bear's Big Day
The Duck, Duck, Porcupine series
Duck, Duck, Porcupine
My Kite is Stuck! And Other Stories
That's My Book! And Other Stories
Be a Friend
Praise for Penguin and Pinecone: a friendship story
"Yoon's cute, boldly lined characters and graphic compositions tell the story in a series of spots, full-page images, and thought bubbles. This picture book, like many before it, proves that love comes in many forms." —Booklist
"Crisp illustrations that capture a genuinely loving heart . . . a strong if whimsical choice for those separated from loved ones." —Kirkus Reviews
"Yoon's story of an unlikely interspecies friendship is both funny and sweet . . . let's hope that, as the Antarctic Ambassador of Friendship, Penguin, too, shall return in more adventures." —Horn Book Magazine on PENGUIN ON VACATION
"Readers will respond to this warm tale of finding love." —Kirkus Reviews on PENGUIN IN LOVE