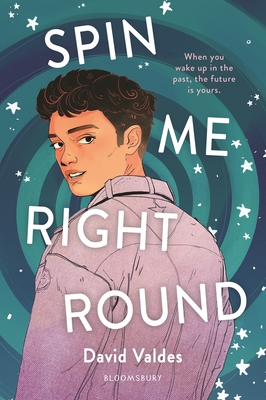 Spin Me Right Round
Publication Date:
January 10th, 2023
Usually Ships in 1 to 5 Days
80's nostalgia, pop culture, and progressive politics make up this time-traveling, funny and witty young adult novel of a queer Latinx teen trying to solve an LGBT mystery while trying to change the world.
January/February 2022 Kids Indie Next List
Description
From lauded writer David Valdes, a sharp and funny YA novel that's Back to the Future with a twist, as a gay teen travels back to his parents' era to save a closeted classmate's life.
All Luis Gonzalez wants is to go to prom with his boyfriend, something his "progressive" high school still doesn't allow. Not after what happened with Chaz Wilson. But that was ages ago, when Luis's parents were in high school; it would never happen today, right? He's determined to find a way to give his LGBTQ friends the respect they deserve (while also not risking his chance to be prom king, just saying…).
When a hit on the head knocks him back in time to 1985 and he meets the doomed young Chaz himself, Luis concocts a new plan-he's going to give this guy his first real kiss. Though it turns out a conservative school in the '80s isn't the safest place to be a gay kid. Especially with homophobes running the campus, including Gordo (aka Luis's estranged father). Luis is in over his head, trying not to make things worse-and hoping he makes it back to present day at all.
In a story that's fresh, intersectional, and wickedly funny, David Valdes introduces a big-mouthed, big-hearted, queer character that readers won't soon forget.
Praise for Spin Me Right Round
"An absolute blast. I loved it, and I couldn't put it down." —Bill Konigsberg, award-winning author of THE MUSIC OF WHAT HAPPENS
"This engaging read is full of honesty, vulnerability, and truly funny moments. . . . An immersive story offering a unique look at second chances, acceptance, and progress." —School Library Journal
"The solid pacing and pleasant, fluid prose make this a page-turner. . . . A great read offering entertainment, encouragement, and plenty to reflect upon." —Kirkus Reviews
"Prepare to laugh out loud as Cuban American high-school senior Luis takes a trip into the past that rivals Back to the Future. . . . Readers will fall for Luis and Chaz, and--bonus!--Luis' clumsy, misunderstood roommate, Ernie. The ripple effects of their brave choices change everyone's future for the better. " —Booklist