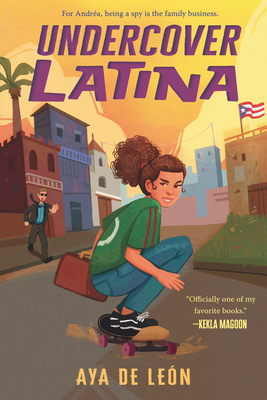 Undercover Latina (The Factory #1)
Publication Date:
September 5th, 2023
Usually Ships in 1 to 5 Days
Description
"Social criticism is woven into a fun read centered on kids of color. . . . An engaging, insightful adventure with a heartfelt conclusion." —Kirkus Reviews (starred review)
Fourteen-year-old Andréa Hernández-Baldoquín hails from a family of spies working for the Factory, an international organization dedicated to protecting people of color. For her first solo mission, Andréa straightens her hair and goes undercover as Andrea Burke, a white girl, to befriend the estranged son of a dangerous white supremacist. In addition to her Factory training, the assignment calls for a deep dive into the son's interests—comic books and gaming—all while taking care not to speak Spanish and blow her family's cover. But it's hard to hide who you really are, especially when you develop a crush on your target's Latino best friend. Can Andréa keep her head, her geek cred, and her code-switching on track to trap a terrorist? This smart, entertaining, and politically astute novel is fast-paced Young adult fare from an established author of heist and espionage novels for adults, in a paperback edition offering discussion questions and an excerpt from the sequel in the back matter.
Praise for Undercover Latina (The Factory #1)
Social criticism is woven into a fun read centered on kids of color; the narrative is accessible and engaging, never shying away from difficult conversations about race and privilege or the many forms White supremacy can take. . . . An engaging, insightful adventure with a heartfelt conclusion.
—Kirkus Reviews (starred review)
Readers will be intrigued and compelled to the very last page. . . Activist and author Aya De Leon, who typically writes for adults, has not shied away from taking on current and weighted issues while still delivering a novel for middle grade readers that is easy to read and which is sure to be a hit. . . . With strong male and female characters, suspense, and gaming, this novel is sure to appeal.
—School Library Connection (starred review)
Portraying Andréa as a spy skilled in espionage, quick problem-solving, and making visual connections, De León (A Spy in the Struggle, for adults) adeptly interrogates themes of ageism, colorism, institutional racism, and sexism, layering them with a thrilling tale of a teenage girl.
—Publishers Weekly
A fast-paced, resonant story that touches on inter- and ­intra-community discrimination. . . . A strong selection for gamers and middle graders who enjoy action-packed narratives. With broad appeal to fans of spy novels, this title will engage tweens while offering a thoughtful conversation-starter. Highly ­recommended.
—School Library Journal
A fast-paced spy novel that weaves difficult issues like race, identity, and belonging into a fun, engaging, and geeky adventure. . . Undercover Latina takes the fantastical idea of a teenage spy and grounds it in the emotions and issues faced by contemporary teens. Its social commentary feels neither heavy handed nor patronizing to younger readers, and its honest, earnest conversations about tough topics make excellent jumping-off points for class discussions.
—Booklist
This is officially one of my favorite books. She had me at 'it's an international intelligence organization that serves people of color,' and I only got more and more hooked after that. I love this character. I love this concept. I love this book. Please tell me it is going to be a series. Please. Please? I want to follow Andréa all over the world and do spying.
—Kekla Magoon, National Book Award Finalist
Seamless code-switching becomes a spy technique in this tale of a Latinx teen who must pose as a white girl to expose a white supremacist terrorist. Aya de León cleverly touches on questions of authenticity and 'passing' while at the same time filling her book with spy gear, hidden bombs, undercover work and even the occasional cute boy.
—NPR
Prepare to have your socks knocked off by this awesome new middle grade novel that manages to pack so much into a thoroughly entertaining story. . . . With action-packed scenes, cosplay, romance, and thought-provoking discussions of race, this powerful middle grade is one of my favorites from the year.
—Book Riot
Ms. de León takes a learning opportunity for kids and couches it in enough chase sequences and fistfights to almost make you forget how much information is crammed into this little package. Prepare for exciting nuance!!. . . Aya de León has fashioned just the right combination of excitement and ethics, of complicated concepts and the occasional detonator. A blueprint for getting these elements sorted out perfectly, a whole range of kids will be enjoying this one. Long before they figure out that it's taught them something as well.
—A Fuse #8 Production