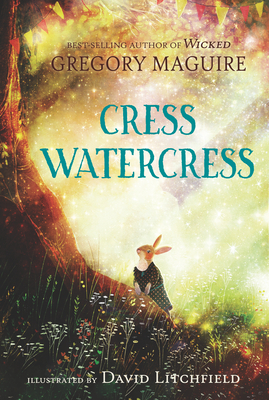 Cress Watercress
Publication Date:
March 29th, 2022
Second Star to the Right
1 on hand, as of Sep 29 5:51pm
(Middle Grade )
On Our Shelves Now
Cress Watercressshows us how to meet new challenges head-on, with plenty of witty humor, determination, whimsical adventure, and friendship. With timeless woodland charm, this book is sure to be a friend to many and a comfort to all."
May/June 2022 Kids Indie Next List
Description
A lavishly illustrated woodland tale with a classic sensibility and modern flair—from the fertile imagination behind Wicked
Gregory Maguire turns his trademark wit and wisdom to an animal adventure about growing up, moving on, and finding community. When Papa doesn't return from a nocturnal honey-gathering expedition, Cress holds out hope, but her mother assumes the worst. It's a dangerous world for rabbits, after all. Mama moves what's left of the Watercress family to the basement unit of the Broken Arms, a run-down apartment oak with a suspect owl landlord, a nosy mouse super, a rowdy family of squirrels, and a pair of songbirds who broadcast everyone's business. Can a dead tree full of annoying neighbors, and no Papa, ever be home? In the timeless spirit of E. B. White and The Wind and the Willows—yet thoroughly of its time—this read-aloud and read-alone gem for animal lovers of all ages features an unforgettable cast that leaps off the page in glowing illustrations by David Litchfield. This tender meditation on coming-of-age invites us to flourish wherever we find ourselves.
Praise for Cress Watercress
David Litchfield's luminous illustrations beautifully flesh out these characters. . . Maguire's descriptions of [Cress's] dark moods, bursts of anger and fear that she will end up like her father are piercing and sensitively written. . . . the story strikes a resonant chord: Like Cress, we must all continue to seek pleasure and connections in a dangerous and uncertain world.
—The New York Times Book Review
Maguire's narrative offers wry puns, rich vocabulary, and entertaining dialogue, and Litchfield's glowing, slightly stylized, full-color illustrations present an enchanting, magical peek into this woodland world. . . . Warmhearted and utterly charming.
—Kirkus Reviews (starred review)
In this richly imagined woodland adventure, a grieving rabbit family—Mama, Cress, and baby Kip (with stuffed carrot "Rotty" always in tow)—must leave their comfortable warren to start over without their lost Papa. . . . Dark and shimmery full-color digital illustrations build on the text's singular atmosphere. . . . With its brisk plot, witty details, and thought-provoking concepts, this gloriously illustrated chapter book makes an ideal family read-aloud.
—The Horn Book (starred review)
A hungry fox, a sneaky snake, a blundering bear, and "human beanpoles" add drama and suspense to Cress' mini adventures, which are luminously depicted in Litchfield's color illustrations. . . this novel of family and friendship will please fans of animal fantasies.
—Booklist
A surreal episodic narrative. . . . Maguire channels multiple children's literary golden ages, with allusions to Beatrix Potter and Kenneth Grahame alongside nonsense notes of Norton Juster and Russell Hoban. Theatrical situations abound. . . . Suitable for sharing and reading aloud, this exuberant tale revels in the performative and the flavor of language.
—Publishers Weekly (starred review)
This coming-of-age story with a female rabbit as the main character will appeal to readers who enjoy gentle adventure stories with an emphasis on character development. . . . Themes of family, friends, relationships, and independence abound in this novel.
—School Library Connection
David Litchfield's illustrations (see right) have such bright, glowing colors that even the nocturnal scenes seem bathed in light.
—The Wall Street Journal
'Wicked' creator Gregory Maguire offers a marvelously eccentric cast of animal characters and vivid poetry celebrating the wonders of the natural world in this beautifully written coming-of-age tale of a young rabbit. . . The glorious full-color illustrations, with the dramatic use of light reminiscent of the best movie animated classics, are by English artist David Litchfield.
—The Buffalo News
Charming. . . There's plenty to chew on here, with Cress' story never preachy but sure to resonate in all kinds of ways with young readers. David Litchfield's illustrations — many full-page — glow with the colors of the forest and the faces of its critters.
—The Star Tribune
The book is rife with similes and metaphors, and the chapters are short, which makes it a wonderful read-aloud. It is a tale of moving on, while remembering the past.
—The Denton-Record Chronicle
Who knew that rabbits and squirrels had so much to teach us about both the hard and tender times of life? Gregory Maguire, that's who. Cress Watercress is a clear-eyed lesson in picking up and moving forward, living with unanswered questions, and making new friends. I will recommend this beautifully written (and perfectly illustrated!) book to everyone.
—Ann Patchett, New York Times best-selling author of The Dutch House