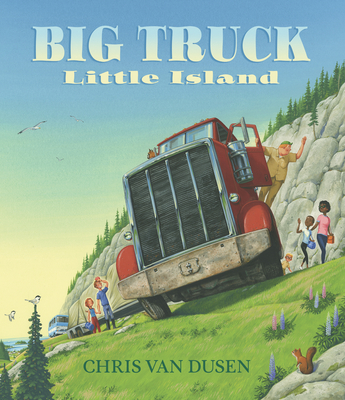 Big Truck Little Island
Publication Date:
May 3rd, 2022
Second Star to the Right
1 on hand, as of Dec 9 10:22am
(Picture Book )
On Our Shelves Now
Description
That big truck is stuck! How will the island residents get where they're going? A tale of community and ingenuity from the celebrated Chris Van Dusen, inspired by a true story.
When a big truck and its big load get stuck on a narrow road, traffic on the little island comes to a halt. Some cars need to go south and some have to travel north. How will Meg get to her swim meet? What about Barry's ballet class? Luckily, the kids come up with an ingenious solution: why not just swap cars? Inspired by an incident that happened on Vinalhaven, Maine, Chris Van Dusen tells a fun tale of resourcefulness and community through clever, rhyming wordplay and whimsical illustrations, sprinkled with plenty of cars and trucks for transportation-loving readers.
Praise for Big Truck Little Island
The crisply rhyming, economic text underscores both the protagonists' cut-to-the-chase ingenuity and the story's deftly delivered core message: when community and trust run deep, life's inevitable obstacles are a lot easier to work around.
—Publishers Weekly (starred review)
Van Dusen is in full command of his rhyming text, using rhythm and sound to set the pace and convey mood. His expressive characters add humor to the situation.
—The Horn Book (starred review)
An excellent lesson in kindness and problem-solving. . . Van Dusen's sun-drenched images of the truck making its way across the reach are stunning, as are the overhead views of the town, with its postcard-perfect farmhouses and tree-lined cliffs. It makes Maine a place readers will want to visit, just not in a truck that might struggle on narrow curves. . . A perfect little slice of life with a unique take on kindness and compromise.
—Kirkus Reviews (starred review)
The story, inspired by an actual mishap on Maine's Vinalhaven island, rollicks along in rhymed verse that makes the most of the transportation theme. . . Gouache paintings maintain a lighthearted perspective on the islanders' troubles, while accurately conveying the challenge of coaxing a massive rig along slippery switchbacks. This study in quick-thinking and neighborliness is bound to earn demands to read it again.
—The Bulletin of the Center for Children's Books
Spinning a tale based on a real incident that occurred on the island town of Vinalhaven in Maine, Van Dusen portrays what happens when a really big flatbed truck carrying a mysterious, covered load across a small island gets stuck on a tight curve and blocks traffic in both directions. . . . A salutary case study in how trust and cooperation can turn a big problem into no problem.
—Booklist
Based on true events, the author creates a picture of a small town that supports and trusts one another. . . A combination of bird's-eye and close-up illustrations depict the expressions of the people and provide glimpses of the local island life. The rhyming and rhythmic text will engage readers and make them excited to see what happens next.
—School Library Connection
In Chris Van Dusen's distinctive illustrations, everything has a smooth, sugar-glazed look, as if his pictures were made of frosted cookies that you could eat. . . . The story Mr. Van Dusen shows and tells in 'Big Truck, Little Island' is perhaps his sweetest yet. . . . The solution has a charming element of cut-the-Gordian-knot surprise in this beautifully well-balanced tale for readers ages 4-8.
—The Wall Street Journal
The humorous singsong text ('the truck trundled off. It bucked up the bridge with a wheeze and a cough') and the droll illustrations (including a bird's-eye view of the island) make this a winner for the target age group.
—The Buffalo News