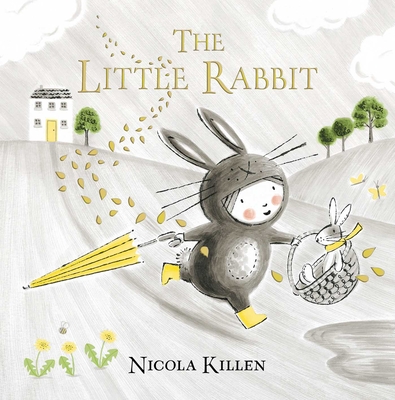 The Little Rabbit (My Little Animal Friend)
Publication Date:
February 5th, 2019
Publisher:
Simon & Schuster/Paula Wiseman Books
Second Star to the Right
1 on hand, as of Dec 9 10:22am
(Picture Book )
On Our Shelves Now
Description
From beloved author/illustrator Nicola Killen comes an enchanting spring story about a magical friendship between a little girl and her stuffed rabbit who comes to life, lovingly told and illustrated in limited color with lovely foil and interactive die cut pages.
Ollie and her favorite friend bunny have been waiting for the rain to stop and spring to come, and at long last the sun arrives. Ollie puts on her rain boots, wraps bunny in a warm scarf, and the two set off for exploring. Then a sudden breeze whispers past and bunny's nose twitches and their magical adventure begins…
The Little Rabbit is sure to enchant and charm young readers and is great for sharing with a friend.
Praise for The Little Rabbit (My Little Animal Friend)
In a follow-up to The Little Reindeer, a child called Ollie—dressed in a bunny costume—and her toy rabbit, Bunny, are eager to splash in rain puddles. When a petal tickles Bunny's nose, he comes to life, leaping from the basket to join a group of wild rabbits. Ollie gives chase—over a pond, into a treehouse, onto a cloud, and ("Whooooosh!") all the way back home. Killen uses a grayscale palette with springtime yellow and green accents. Periodic die-cuts provide a greater sense of dimension, while occasional comics-style panels offer an episodic quality to the story. Raindrops, splashing water, and blowing petals are rendered in embossed flecks of gold foil, providing light enchantment to this quiet story of a rainy day adventure.
— Publishers Weekly
In author and illustrator Nicola Killen's The Little Rabbit, Ollie can't wait for the rain to stop, so he can go play in the puddles. Before the wind has settled, Ollie races out the door with his umbrella and favorite stuffed animal, Bunny, in tow.  
As soon as they're outside, a golden petal settles onto Bunny's nose and something astonishing happens. With a twitch of his nose, Bunny springs to life, hops out of the basket and darts off with a pack of wild rabbits. 
Ollie calls and calls, but can't find Bunny anywhere. Just as the sky darkens and the rain returns, Ollie spots him. He's stranded in a puddle of quickly rising water. With the aid of an inspired gust of wind, Ollie hops aboard his upturned umbrella and sails through the puddle to rescue Bunny. 
Next, Bunny leads Ollie up to the treehouse. But when Bunny climbs higher up the tree and jumps towards the clouds above, what will Ollie do?
With each turn of the page, The Little Rabbit grows increasingly fantastical, reminding readers of the wonder-filled realm between reality and make believe that young children inhabit with such glee. With its beautifully stark watercolors and the occasional gold-embossed magic petal, The Little Rabbit is as visually charming as is its text. 
— BookPage, Web Exclusive