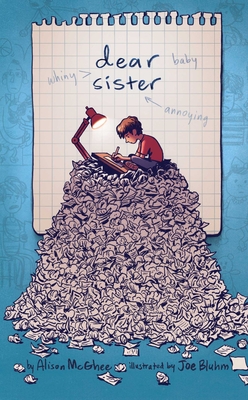 Dear Sister
Publication Date:
October 2nd, 2018
Publisher:
Atheneum/Caitlyn Dlouhy Books
Second Star to the Right
1 on hand, as of Dec 9 10:22am
(Middle Grade )
On Our Shelves Now
Description
What do you do when you have an incredibly annoying little sister? Write her letters telling her so, of course! From New York Times bestselling author Alison McGhee comes a wickedly funny, illustrated, heartwarming, and deeply honest collection of letters from an older brother to his little sister.
Whininess, annoyingness, afraid of the darkness, refusal to eat lima beans, and pulling brother's hair. This is the criteria on which little sisters are graded. Inspired by the notes Alison McGhee's own kids would write each other, this heavily illustrated collection of letters and messages from an older brother to his little sister reveal the special love—or, at the very least, tolerance—siblings have for each other.
Praise for Dear Sister
Over the years, a boy's letters to his younger sister reveal his changing impressions of her and their relationship in this epistolary graphic novel. For the unnamed 8-year-old boy, life was less complicated before his baby sister was born. Now his parents (aka "the wardens") ask him to write cards and letters, sometimes with accompanying drawings, to his new sibling. Beginning each note with "Dear Sister," the boy recounts his life with honesty, expressing his frustration with her incessant crying, having to read her the same book for "the 763rd time," and his lack of privacy. Mixed in are several apology letters that reveal that the wardens fail to understand his perspective. Only his friend Joe offers diversion. Signing his initial letters "From, Brother," he informs his sister that he's holding out on the love part until he's made up his mind. During a 10-year-period, however, his letters gradually reflect his growing affection for her. When Joe moves away, it's the sister, who's always adored her big brother, who understands his pain. And as their friendship and affection grow, perhaps the brother enjoys connecting with—and yes, reading to—his sister after all. While books on sibling rivalry abound, this volume brings freshness to the topic with McGhee's gentle humor and poignant scenarios (though adults may respond more strongly than kids). Bluhm heightens both with childlike sketches for the brother's drawings and emotive illustrations for the storyline. Dear indeed for preteens facing big changes and adults with fond memories. (Graphic fiction. 10-13) 
— Kirkus
Letters, drawings, and homemade coupons form this epistolary accounting of two siblings' young life together, a portrait of frustration and love that spans 10 years: from the birth of Sister to her 10th year, when her brother departs for college. The missives Brother sends reveal his feelings—notes their parents ("the wardens") make him pen, apologies (also forced), and sibling progress reports ("Whininess: Excellent"). Initially, Sister is an annoyance (she cries, insists Brother read a book for the "763rd time," fails to respect restroom privacy). But affection grows between them, and amusement and tenderness come through in the letters' postscripts (from a note to camp: "PS: I miss you, too"). Drawings by Bluhm complement the handwritten text, mimicking the boy's sketches and the way they change over time. The authentic sibling relationship may border on nostalgia, but it offers a meaningful look at one of life's realities: sibling-hood and all its foibles. 
— Publishers Weekly
"Dear Sister,/ They told me to draw a picture of you for your baby book./ Here you go." So begins a series of illustrated letters from a brother to his younger sister, a less than welcome addition to his life--at least at first. The letters are accompanied by Joe Bluhm's gag-filled illustrations, some in what suggests a child's hand. The letters highlight the brother's frustrations: "Congratulations! According to the judges' calculations, your Cry Olympics scores place you in the top 3% of three-year-olds nationwide." But he has to admit that, by his sister's 10th birthday, she's no longer his nemesis: "Whininess: Could be worse./ Annoyingness: Could be worse." Alison McGhee (Pablo and Birdy) is so unremittingly funny that readers may be caught off guard toward Dear Sister's end, when it's time for the brother to go to college and--who would've thought?--both sibs are heartbroken. --Nell Beram, freelance writer and YA author
Discover: In Alison McGhee and Joe Bluhm's picture book, a boy writes a series of hilarious letters to his younger sister during her first decade.
— Shelf Awareness *STARRED REVIEW*
While books on sibling rivalry abound, this volume brings freshness to the topic with McGhee's gentle humor and poignant scenarios. Dear indeed. 
— Kirkus
A meaningful look at...sibling-hood and all its foibles. 
— Publishers Weekly
More endearing is the slow-but-steady growth of affection...the dry humor and clever format should nevertheless appeal to any kid with a sibling. — Sarah Hunter
— Booklist
The letters are accompanied by Joe Bluhm's gag-filled illustrations. Alison McGhee (Pablo and Birdy) is so unremittingly funny that readers may be caught off guard toward Dear Sister's end, when it's time for the brother to go to college and--who would've thought?--both sibs are heartbroken. --Nell Beram, freelance writer and YA author
— Shelf Awareness *STARRED REVIEW*