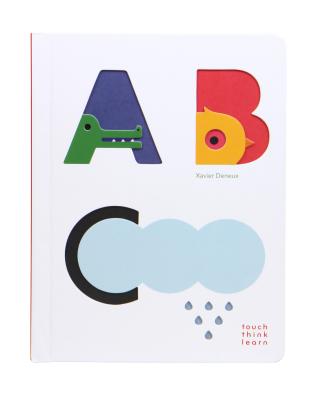 TouchThinkLearn: ABC (Touch Think Learn)
Publication Date:
September 6th, 2016
Publisher:
Chronicle Books
Usually Ships in 1 to 5 Days
Description
Part of the bestselling TouchThinkLearn series! An alphabet touch book perfect for hands-on learning.
To touch is to experience. To experience is to learn.
The popular TouchThinkLearn series, with over 1,000,000 copies sold, combines scooped-out die-cuts with raised, shaped elements, designed to offer the youngest learners an irresistible opportunity to explore their universe in a hands-on, multisensory way.
TouchThinkLearn: ABC, from acclaimed author Xavier Deneux, is an exquisitely designed chunky board book that invites little readers to explore the letters of the alphabet in a whole new way. Dynamic, tactile features make learning ABCs fun and engaging, and the sturdy, durable pages are a delight for curious toddlers to enjoy again and again.
ALPHABET PICTURE BOOK: Engaging, simple, and straightforward, this ABC book has one defining difference: it's a work of art. Turn the thick pages to reveal mesmerizing artwork and inventive interactive elements. Among children's board books, it's a standout!
SENSORY LEARNING FOR BABY: Sensory board books that engage little ones' hands and minds are ideal for helping babies and toddlers grasp early learning concepts. Incorporating textured alphabet elements along with unique cutouts and clever artwork helps preschoolers learn their letters at their own pace.
INTERACTIVE BOOKS SERIES: TouchThinkLearn books include a range of topics, from colors, shapes, and opposites to numbers, animals, and feelings. Translating abstract thought into tangible knowledge, these groundbreaking books give early learning new dimension.
Perfect for:
Ideal for preschoolers
Gift for baby shower, birthday, or festive season
Fans of the TouchThinkLearn series, Bookscape Board Books, and Alphablocks books