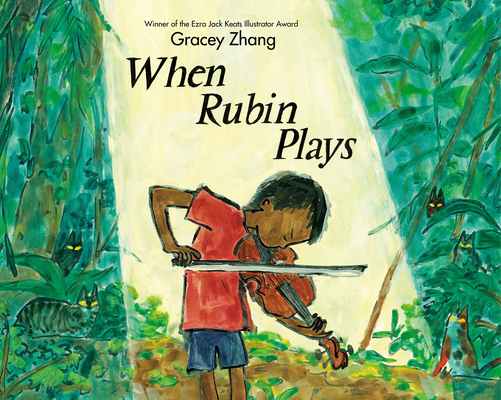 When Rubin Plays
Publication Date:
July 18th, 2023
Usually Ships in 1 to 5 Days
Beautiful music is in the ear of the beholder. In this stunning picture book from the author/illustrator ofLaLa's Words, that ear is a chorus of cats! Both a celebration of music and of new musicians, this is sure to be a story time favorite.
July/August 2023 Kids Indie Next List
Description
From the PW Flying Starts creative force, Gracey Zhang, comes a touching and beautiful story about community, finding your own voice, doing what you love the most, and expressing your passion with FORTE!
Rubin loves the beautiful sounds that are played by the orchestra. He wants to learn to play the violin and make his own music. But when Rubin plays, it doesn't sound like he imagines it should. Rubin goes into the forest to practice alone and despite only getting the violin to screech, he finds an unlikely audience that loves his unique style.
In another inspiring and lyrical picture book that deftly dives into the psyche and heart of a child's viewpoint and experience, the creator of Lala's Words, Gracey Zhang, offers confidence to everyone who longs to master something that can be difficult and shows that there is only one way to do something right: that is to do it your own special way.
This is the next book from one of today's most gifted young creators. Zhang is a Publishers Weekly's Spring 2021 Children's Flying Starts creator and her debut, Lala's Words, was the 2022 EJK Award Winner, with endless praise: "Little Lala helps the weeds in the vacant lot blossom into full, gorgeous plants just by talking to them and showing them a little love. This picture book is breathtaking, and Zhang's use of color really helps the story come alive. It's like a modern inverse of The Giving Tree." -- Paul Swydan, The Silver Unicorn Bookstore
Praise for When Rubin Plays
Praise for When Rubin Plays:
* "Spreads and text from Zhang... pulse with joy... as the whole community acknowledges Rubin's unique contribution... in this wondrous tale of trust in self and collaboration." -- Publishers Weekly, starred review
"This charming story of a boy finding his sound will inspire beginners to persist in their endeavors and to approach their creative journeys with passion and confidence -- even if their skills may not be there yet... A tale that is truly mew-sic to the ears." -- Kirkus Reviews
"In the thick lines of Ms. Zhang's warm, inviting artwork, we see the novice persevere, producing a caterwauling that makes people smile and wince." -- The Wall Street Journal
Praise for Lala's Words:
2022 Ezra Jack Keats Award Winner!
A Junior Library Guild Selection
* "Zhang's powerful debut lifts up the power words have to heal and feed." -- Publishers Weekly, starred review
"Little Lala helps the weeds in the vacant lot blossom into full, gorgeous plants just by talking to them and showing them a little love. This picture book is breathtaking, and Zhang's use of color really helps the story come alive. It's like a modern inverse of The Giving Tree." -- Paul Swydan, The Silver Unicorn Bookstore, Acton, Massachusetts
"Zhang's style, blending warmhearted multiethnic urban caricature with a bold-lined rough-and-tumble zeal, is wholly original. And like the compliment Lala pays her soon science-fiction-size plants, this debut picture book (which also depicts a burgeoning mother-daughter relationship) is 'magnificent.'" -- The New York Times Book Review
"This is the enchanting story about the power of words." -- Booklist
"Lala's enthusiasm blossoms on the page." -- Kirkus Reviews
"A verdant tale of leaves, language, and most importantly, love." -- Molly Idle (author-illustrator of Pearl; Flora and the Flamingo)
"Much like an encouraging word, Gracey's vibrant pictures will lift you up." -- Christian Robinson (author of Another; illustrator of Last Stop on Market Street)
"A touching fantasy rooted in reality. Gracey's art recalls children's books masters... Ludwig Bemelmans, Roger Duvoisin, David Small. Yet it is fresh and lovely and hasn't been seen before." -- LeUyen Pham (illustrator of Bear Came Along; Grace for President)
"Lala's Words is really about magic; a special kind of magic called kindness. Like the sunlight and falling rain, kindness nourishes the world around us. This book, with its lovely art and whimsical story, will also nourish the reader." -- The Fan Brothers (author-illustrators of Ocean Meets Sky; The Night Gardener)