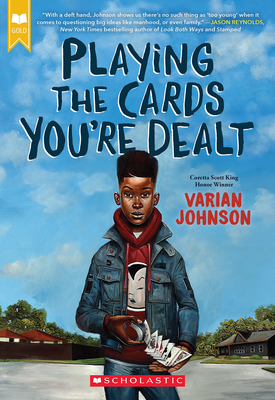 Playing the Cards You're Dealt (Scholastic Gold)
Publication Date:
January 3rd, 2023
Publisher:
Scholastic Paperbacks
Usually Ships in 1 to 5 Days
Definitely lives up to The Parker Inheritance. Nicely rounded characters facing believable issues in a supportive, but not always perfect, community setting. This fills a good need — early middle grade books with smart boys learning how to be great men.
November/December 2021 Kids Indie Next List
Description
"With a deft hand, Johnson shows us there's no such thing as 'too young' when it comes to questioning big ideas like manhood, or even family." – Jason Reynolds, New York Times bestselling author of Look Both Ways and Stamped
Literary powerhouse and Coretta Scott King Honor- and Boston Globe / Horn Book Honor-winning author of The Parker Inheritance Varian Johnson explores themes of toxic masculinity and family legacy in this heartfelt, hopeful story of one boy discovering what it really means to be a man.
SECRETS ARE ALWAYS A GAMBLE
Ten-year-old Anthony Joplin has made it to double digits! Which means he's finally old enough to play in the spades tournament every Joplin Man before him seems to have won. So while Ant's friends are stressing about fifth grade homework and girls, Ant only has one thing on his mind: how he'll measure up to his father's expectations at the card table.
Then Ant's best friend gets grounded, and he's forced to find another spades partner. And Shirley, the new girl in his class, isn't exactly who he has in mind. She talks a whole lot of trash -- way more than his old partner. Plus, he's not sure that his father wants him playing with a girl. But she's smart and tough and pretty, and knows every card trick in the book. So Ant decides to join forces with Shirley -- and keep his plans a secret.
Only it turns out secrets are another Joplin Man tradition. And his father is hiding one so big it may tear their family apart...
Featuring exclusive bonus content!
Praise for Playing the Cards You're Dealt (Scholastic Gold)
Praise for Playing the Cards You're Dealt:
Kirkus Reviews Best Books of the Year
Publisher's Weekly Best Books of the Year
Booklist Editors' Choice
Association for Library Services to Children (ALSC) Notable Children's Book List
Evanston Public Library 101 Great Books for Kids List
Junior Library Guild Gold Standard Selection
An Indie Next Selection
* "A compelling story of cards, courage, and compassion." -- Booklist, starred review
* "A story about showing great courage and perseverance when life gets shuffled." -- Kirkus Reviews, starred review
* "Johnson addresses themes of toxic masculinity, family, and legacy in this vividly told novel." -- Publishers Weekly, starred review
* "A first-rate contemporary realistic fiction title that centers a Black boy and his community, and offers expansive notions of masculinity." -- School Library Journal, starred review
"Playing the Cards You're Dealt, is a necessary tale about how some traditions are worth upholding, and others -- especially those that harm people -- aren't. More importantly, Johnson with the deft hand indicative of all his work, gives us Anthony Joplin to show us there's no such thing as 'too young' when it comes to questioning big ideas like manhood, or even family." -- Jason Reynolds, New York Times bestselling author of Look Both Ways and Stamped
"Reading a well-written book is akin to watching an acrobat on a tightrope. And Varian Johnson is the best of acrobats -- he's made the task look effortless with an air of compassion, tenderness, humor, and a dab of magic realism." -- Christopher Paul Curtis, Newbery Award-winning author of BUD, Not BUDDY and The Watsons Go to Birmingham 1963
"The story and its characters are compelling, as is the omniscient narrator, who becomes increasingly involved in the tale. Themes of addiction and consent are addressed honestly and compassionately, and more than enough tips are given to spark the interest of 'youngbloods' in the game of spades." -- The Horn Book
"Definitely lives up to The Parker Inheritance. Nicely rounded characters facing believable issues in a supportive, but not always perfect, community setting. This fills a good need -- early middle grade books with smart boys learning how to be great men." -- Rosie Lee-Parks (Readers' Books) for Shelf Awareness