Staff Pick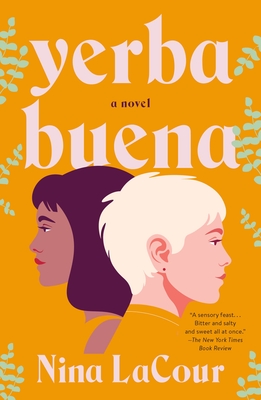 Yerba Buena: A Novel
Publication Date:
May 30th, 2023
Publisher:
Flatiron Books
Usually Ships in 1 to 5 Days
Staff Reviews
Yerba Buena by Nina LaCour is an exquisite coming-of-age story, a queer romance, and an examination of intergenerational trauma... All my favorite things in a book!
— Elizabeth
This book stole my breath away. Raw and intimate, it follows the lives of two women through heartbreak, loss, and adolescent uncertainty as they weave in and out of each other's lives. I wanted to hug this book to my chest when I finished.
June 2022 Indie Next List
Description
FROM BESTSELLING AND PRINTZ-AWARD WINNING AUTHOR NINA LACOUR, PERFECT FOR READERS OF WRITERS AND LOVERS
"A study of complex, modern love…Expertly illuminates the trauma that Sara and Emilie are both wrestling with, as well as their hope and healing…Lingers like a perfectly mixed cocktail." —San Francisco Chronicle

"A Carol for our times." —Harper's Bazaar
Sara Foster runs away from home at sixteen, leaving behind the girl she once was, capable of trust and intimacy. Years later, in Los Angeles, she is a sought-after bartender, renowned as much for her brilliant cocktails as for the mystery that clings to her. Across the city, Emilie Dubois is in a holding pattern, yearning for the beauty and community her Creole grandparents cultivated but unable to commit. On a whim, she takes a job arranging flowers at the glamorous restaurant Yerba Buena.
The morning Emilie and Sara first meet at Yerba Buena, their connection is immediate. But soon Sara's old life catches up to her, upending everything she thought she wanted, just as Emilie has finally gained her own sense of purpose. Will their love be more powerful than their pasts?
At once exquisite and expansive, astonishing in its humanity and heart, Yerba Buena is a testament to the healing qualities of a shared meal, a perfectly crafted drink, a space we claim for ourselves. Nina LaCour's adult debut novel is a love story for our time.
Praise for Yerba Buena: A Novel
Praise for Yerba Buena
A Most Anticipated Book (Vogue, Harper's Bazaar, The Washington Post, TIME, Vulture, Elle, Cosmopolitan, NBC News, Good Housekeeping, Parade, Electric Lit, BuzzFeed, BookRiot, Bustle, Goodreads, LGBTQ Reads, Autostraddle, PopSugar, PureWow, Veranda Magazine, Bookish, The Nerd Daily, East Bay Express, The Lesbian Review)
"Unfold[s] like the slowly blossoming flavors of a well-made drink… The book is a sensory feast, teeming with vivid detail…LaCour's writing shines…Bitter and salty and sweet all at once."
—The New York Times Book Review
"A study of complex, modern love…Yerba Buena is observed with a cool, generous eye in spare, quiet prose that expertly illuminates the trauma that Sara and Emilie are both wrestling with, as well as their hope and healing…Beautiful character-driven fiction that lingers like a perfectly mixed cocktail."
—San Francisco Chronicle

"Sweet and bitter and full...[LaCour] understands her characters so well that you can sit back, sink in and trust the story."
—L.A. Times
"A lesbian love story for the ages."
—Vogue

"A Carol for our times, Yerba Buena is a sweetly sweeping love story about two women trying to find themselves in the middle of Los Angeles."
—Harper's Bazaar
"A poignant, beautiful novel."
—The Washington Post
"A love story as vibrant as its cover…A perfect beach read: Two women meet at a fashionable restaurant known as—you got it—Yerba Buena, and there embark on a journey of addiction, self-discovery, renewal, and, perhaps, real commitment."
—Elle
"The sumptuousness of the prose and its reflections of Southern California—its food, its drink, its intimacies—will make you want to take a long, slow drive along an ocean vista."
—Vulture
"A remarkable journey featuring two aching women on perpendicular paths towards a crossroads of connection."
—BuzzFeed
"[A] slow-burn, heartfelt story."
—TIME

"LaCour's beautiful and often heartbreaking books have destroyed and delighted me many times over. In fact, her incredibly insightful queer YA novels never let me down and so I am definitely quivering with anticipation for Yerba Buena…This seems like a gloriously melancholy book to read as I hide from the cold outside world, snuggled on my sofa under a warm, fuzzy blanket. Can't wait."
—BookRiot
"A heartbreakingly beautiful story about two lost women who somehow find each other and in doing so find themselves."
—Electric Lit

"A will-they, won't-they that's both quietly devastating and deeply relatable for anyone who's struggled to decide what they can risk for love."
—Good Housekeeping

"The perfect book to bask in this summer...Yerba Buena accomplishes in one novel what Sally Rooney attempted in three."
—Autostraddle
"A tender and at times heartbreaking love story between two women finding their way in life…A delicately devastating and beautifully perceptive journey."
—Bust Magazine

"Enthralling."
—Bustle
"Romantic… LaCour examines love and finding one's life purpose."
—PopSugar

"Atmospheric, lush, and distinctly Californian."
—San Diego Union-Tribune
"Quietly powerful…Brilliantly observed… Sara and Emilie are such fully realized characters that by the end of the novel, you will feel as though you've spent time with cherished friends. Bursting with emotionally resonant moments and vivid details of LA neighborhoods, Yerba
Buena is a remarkable story of queer love and childhood trauma, addiction and forgiveness, family legacies and new beginnings."
—BookPage (boxed and starred review)
"Lyrical and ultimately hopeful. Yerba buena—the 'good herb,' which is also the name of the restaurant where Sara and Emilie meet—carries the reader through the pain and symbolizes a better future."
—Booklist (starred review)
"LaCour writes with beauty and clarity about how a relationship is not a substitute for the characters' mutual need to love themselves."
—Publishers Weekly

"The rawness of Sara's and Emilie's struggles come through, making for a heartfelt story. A brisk, plot-driven, and entertaining novel."
—Kirkus
"Yerba Buena is at turns decadent and spare, intimate and elusive, as balanced, fragrant, and masterfully crafted as a fine cocktail in the hands of someone mysterious and beautiful. This book is a precious thing."
—Casey McQuiston, New York Times bestselling author of One Last Stop
"Nina LaCour's Yerba Buena is a love story for our time. I so admired its truth and candor, the lilting prose and the two compelling protagonists, Sara and Emilie, whose lives weave, break and bend towards each other until the novel's moving and deeply satisfying conclusion. Yerba Buena is an absolute joy to read."
—Tara Conklin, New York Times bestselling author of The Last Romantics

"Nina LaCour's writing is so evocative that it's hard to put down (I read Yerba Buena in one day). The attention to detail allows you to be transported—you can just about taste the food, be in the rooms, and even feel the feelings the characters are experiencing."
—Julia Turshen, New York Times bestselling author of Simply Julia and more cookbooks

"Tactile, tender and intimate, Yerba Buena is a gorgeous, sensory exploration of life's richest moments. Led by two soulful and complex women, it is a joy to read."
—Charlotte McConaghy, New York Times bestselling author of Once There Were Wolves and Migrations

"Yerba Buena tells two lovely, tangled, gorgeously-detailed coming-of-age stories. It is a novel full of heartbreak and hope, food and flowers, complication and compromise, love and loss and lessons learned the hard way. But especially love."
—Laurie Frankel, New York Times bestselling author of One Two Three and This Is How It Always Is

"Yerba Buena is not just a book to read; it's a story to revel in, so full is it of sensual pleasures—food and flowers, cocktails and home decor—all of it enveloping a sexy, magnetic and unputdownable love story of two young women fighting their way past family demons and toward each other. This is Nina LaCour's best work yet."
—Gayle Forman, New York Times bestselling author of If I Stay and We Are Inevitable

"Such a sublimely crafted narrative about the truths our hearts hold and the lies it tells to protect us, of the paths that carve us and the ones we carve for ourselves, of reckonings and reconcilings. Nina LaCour has written an affecting, gratifying, and memorable love letter to beginnings in the way only Nina LaCour can. Gorgeous."
—Courtney Summers, New York Times bestselling author of Sadie
"A beautiful story of two star-crossed women circling in the same orbit, but struggling to truly find one another."
—Jasmine Guillory, New York Times bestselling author of The Proposal