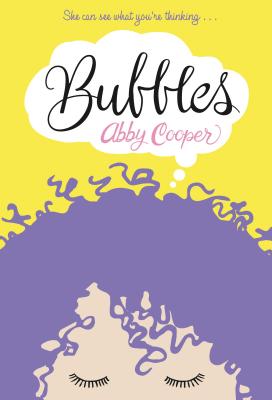 Bubbles: A Novel
Publication Date:
July 17th, 2018
Second Star to the Right
1 on hand, as of Dec 9 10:22am
(Middle Grade )
On Our Shelves Now
Description
In this funny, heartwarming contemporary novel for middle-grade readers, people are more than what they seem—or what they think.
Twelve-year-old Sophie Mulvaney's world has been turned upside down. Mom lost her job at the TV station and broke up with Pratik, whom Sophie adored. Her teacher is making them do a special project about risk-taking, so Sophie gets roped into doing a triathlon.
And to top it all off, she's started seeing bubbles above people's heads that tell her what these people are thinking.
Seeing other people's thoughts seems like it should be cool, but it's actually just stressful. What does it mean that Pratik wishes she and Mom were with him to eat dinner? Is her best friend Kaya really going out with their other best friend, Rafael, whom Sophie also has a crush on? And can Sophie's mom ever go back to her old self?
From Abby Cooper, the author of Sticks & Stones, Bubbles is a realistic book about a mind-reading girl with a lot of heart and soul.
Praise for Bubbles:
"The magical spin [Cooper] gives to her lead character adds a lightness to the story that may be appreciated by younger readers." —Booklist
"Sophie Mulvaney is a wonderful character who, like many kids, feels the weight of other people's problems and responsibilities. . . . Realistic elements of mild depression, preteen insecurities, and helpful adult interactions propel an authentic yet whimsical journey into the life of a 12-year-old girl. . . . A funny and sensitive novel, bound to find eager middle grade readers." —School Library Journal
"Cooper revisits quirky maladies and middle school friendships. . . . Sophie addresses the thought bubbles she sees with the aid of a therapist, which the author handles straightforwardly." —Kirkus Reviews
A Margaret Ferguson Book
Praise for Bubbles: A Novel
Praise for Bubbles:
"The magical spin [Cooper] gives to her lead character adds a lightness to the story that may be appreciated by younger readers." —Booklist
"Sophie Mulvaney is a wonderful character who, like many kids, feels the weight of other people's problems and responsibilities. . . . Realistic elements of mild depression, preteen insecurities, and helpful adult interactions propel an authentic yet whimsical journey into the life of a 12-year-old girl. . . . A funny and sensitive novel, bound to find eager middle grade readers." —School Library Journal
"Cooper revisits quirky maladies and middle school friendships. . . . Sophie addresses the thought bubbles she sees with the aid of a therapist, which the author handles straightforwardly." —Kirkus Reviews