Staff Pick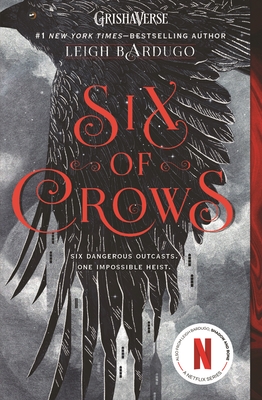 Six of Crows
Publication Date:
February 6th, 2018
Usually Ships in 1 to 5 Days
An impossible heist, a fantasy world, and a crew of six very different people brought together in their quest for a life-changing fortune. Quietly dazzling in its complexity, Leigh Bardugo's newest is the type of book that makes the rest of the world drop away while reading it. This book will consume you in the way only a brilliant fantasy book can. With characters that felt so real I wanted to meet them, and an action packed plot with plenty of subterfuge, intrigue, and complicated relationships, this book will quickly vault to the top of your favorite books list and firmly entrench itself there… at least until the sequel.
Summer 2018 Reading Group Indie Next List
Description
See the Grishaverse come to life on screen with the Netflix series, Shadow and Bone -- Season 2 streaming now!
Meet Kaz Brekker and his crew: Jesper, Inej, Wylan, and the star-crossed Nina and Matthias, on the heist of a lifetime in Six of Crows from #1 bestselling author, Leigh Bardugo.
Ketterdam: a bustling hub of international trade where anything can be had for the right price—and no one knows that better than criminal prodigy Kaz Brekker. Kaz is offered a chance at a deadly heist that could make him rich beyond his wildest dreams. But he can't pull it off alone. . . .
A convict with a thirst for revenge.
A sharpshooter who can't walk away from a wager.
A runaway with a privileged past.
A spy known as the Wraith.
A Heartrender using her magic to survive the slums.
A thief with a gift for unlikely escapes.
Six dangerous outcasts. One impossible heist. Kaz's crew is the only thing that might stand between the world and destruction—if they don't kill each other first.
Six of Crows by Leigh Bardugo returns to the breathtaking world of the Grishaverse in this unforgettable tale about the opportunity—and the adventure—of a lifetime.
Read all the books in the Grishaverse!
The Shadow and Bone Trilogy
(previously published as The Grisha Trilogy)
Shadow and Bone
Siege and Storm
Ruin and Rising
The Six of Crows Duology
Six of Crows
Crooked Kingdom
The King of Scars Duology
King of Scars
Rule of Wolves
The Language of Thorns: Midnight Tales and Dangerous Magic
The Severed Moon: A Year-Long Journal of Magic
The Lives of Saints
Demon in the Wood Graphic Novel

Praise for Six of Crows
"There's conflict between morality and amorality and an appetite for sometimes grimace-inducing violence that recalls the Game of Thrones series. But for every bloody exchange there are pages of crackling dialogue and sumptuous description. Bardugo dives deep into this world, with full color and sound. If you're not careful, it'll steal all your time." —The New York Times Book Review
"This has all the right elements to keep readers enthralled: a cunning leader with a plan for every occasion, nigh-impossible odds, an entertainingly combative team of skilled misfits, a twisty plot, and a nerve-wracking cliffhanger." —Publishers Weekly, starred review
"Set in a world that will be familiar to fans of the author, this book can be fully enjoyed without having read any previous title. . . . This is an easy choice for teens who enjoyed The Grisha Trilogy, Diviners, or any of the Shadowhunter books." —VOYA, starred review
"Cracking page-turner with a multiethnic, band of misfits with differing sexual orientations who satisfyingly, believably jell into a family." —Kirkus Reviews, starred review
"Unlike anything I've ever read." —Veronica Roth, New York Times-bestselling author of the Divergent Trilogy, on Shadow and Bone
"A heady blend of fantasy, romance, and adventure." —Rick Riordan, New York Times-bestselling author of the Percy Jackson & the Olympians series, on Siege and Storm
"Triumphant." —Kirkus Reviews, starred review, on Ruin and Rising
"Mesmerizing. . . . Bardugo's set up is shiver-inducing, of the delicious variety. This is what fantasy is for." —The New York Times Book Review on Shadow and Bone
"This is one book series you want to get hooked on." —Seventeen.com
"These books are the greatest things since Harry Potter AND sliced bread." —hellogiggles.com
"Rich, satisfying, and gorgeous, laced with heart-pounding action and pitch-perfect romance." —Cinda Williams Chima, bestselling author, on Shadow and Bone
"Completely engrossing." —Romantic Times on Siege and Storm
"Fast-paced and unpredictable. . . . A unique world complete with monsters, magic, danger, romance, corruption, and extravagance." —School Library Journal, starred review, on Shadow and Bone
"Filled with lush descriptions, intriguing magic, and plenty of twists, this memorable adventure offers action and intrigue mixed with an undercurrent of romance and danger." —Publishers Weekly on Shadow and Bone
"Bardugo weaves a captivating spell with lushly descriptive writing, engaging characters, and an exotic, vivid world. Readers will wait impatiently for the next installment." —Booklist on Shadow and Bone
"Readers will be rooting for this lonely, tough heroine as she navigates perils physical, magical, and emotional." —Bulletin of the Center for Children's Books, on Shadow and Bone
"A rich fantasy landscape, an inspired magical structure, and a gratifying emotional hook keep the pages whirring." —The Horn Book on Shadow and Bone
"Scheming and action carry readers at a breathless pace . . . and will definitely leave them panting for the series' conclusion." —Kirkus Reviews on Siege and Storm
"Richly crafted . . . An engaging wish-fulfillment fantasy." —The Horn Book on Siege and Storm
"[Readers will be] tapping their feet impatiently for the concluding volume." —Booklist on Siege and Storm
"Readers won't be able to turn the pages fast enough." —Booklist on Ruin and Rising
"Bardugo is a master at building an action-packed fantasy with extraordinary world-building and complete characters." —School Library Journal (Ruin and Rising)