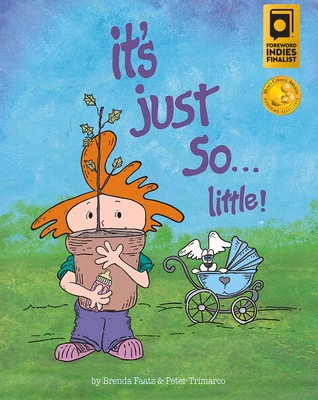 It's Just So...Little!
Publication Date:
May 23rd, 2017
Publisher:
Notable Kids Publishing
Second Star to the Right
2 on hand, as of Dec 9 10:22am
(Picture Book )
On Our Shelves Now
Description
It's Just So… adventurous for a little girl named Lizzy as she faces challenges of growth and change. She and her faithful puppy adopt a frail little sapling tree, taking on the job of protecting and nurturing their new, well-rooted 'friend' throughout the seasons. In the meantime, Lizzy is outgrowing all of her favorite clothes and watching as Mom seems to be outgrowing her clothes as well. Lizzy's biggest change comes in welcoming the new baby as her family tree seems to be growing too.
Praise for It's Just So...Little!
"Life for a child is magnified in so many ways that everything can just seem so …. It is filling in the varieties of 'so' that challenges a children's author to be creative, something Brenda Faatz and Peter Trimarco seem able to do with so much fun and action and imagination in their children's books about Lizzie, the red-headed girl, this time with It's Just So...Little! To capture the young person's reading interest, it is necessary to do so much more than simply provide cute pictures, cute rhymes, or a cute storyline. The true talent, and one at which the authors/illustrator excel, is in presenting a collage of intrigue made up of words, events, thoughts, and activities, all the while managing to connect them into a singularly coherent tapestry. Too much to ask? Apparently not.
What Brenda Faatz and Peter Trimarco do is intricate and highly thoughtful. As gaily colorful and bursting with energy as is It's Just So Little – the illustrations are truly amazing - if one takes the time to study them at leisure, he sees an impeccably replicated version of a young child's emotional and maturational reality. In this case, young Lizzie is already growing older. Things are changing … just so quickly. She is given life-changing news about a new birth, and her world becomes the perfect metaphor for all that she must consider. The authors remind us that children are not the simple creatures they often appear to be. Their interior worlds are magnified; everything takes on greater meaning, becomes a greater challenge, becomes so … much … more. It is the interweaving of so many elements that makes this book stand out. A single read or two will simply not suffice. There is just too much here to love." — Joel R. Dennstedt, Reader's Favorite
"Clarion Rating 5 Stars...The second in a series, It's Just So … Little! is the perfect book to ease children, ages three to six, into having a new sibling, or to help them deal with any anxiety about something unexpected on the way.
Lizzy's adventures are related through rhyme schemes that are expertly crafted by the authors, who have backgrounds in children's musical theater. Each page of rhyming verse is paired with a refrain of 'It's just so…'
The book's use of the changing seasons and Lizzy's growing out of her own clothes—both very common points of reference for children—serve as effective tools for easing general anxieties about change. The writing style is at the perfect level for young children as well. The stanzas also appear in zigzag to further illustrate the disorienting feeling of worry. The full-color, full-page pictures pair nicely with the text." — Amanda McCorquodale, Foreword Reviews
"It's Just So . . . Little stars Lizzy, the effervescent young girl readers met in the first picture book in this fun series for new readers.
The co-authors have used the brilliant analogies of the four seasons and the growth of a tree to showcase to young readers Lizzy's varying emotions as she transitions from being an only child into a big sister. Just as we all must adapt to the varying conditions of the seasons, Lizzy discovers that she too can adapt with the twists and turns that life presents.
The authors' signature use of wacky words adds bonus entertainment and kids will enjoy wrapping their mouths around them: gigantonormous, chocolicious, and treemondo-mongous! These words also build excitement and crescendo at the right time to allow for more poignant and quiet moments that are ready to speak to the heart.
All in all, this is a delightful book that would make a wonderful addition to any growing family's home library. Highly recommended." — The Children's Book Review
"Charming, original, entertaining, colorful, and a thoroughly 'kid friendly' picture book for children ages 3 to 8 …'It's Just So...Little!' will prove to be an ideal and enduringly popular addition to family, preschool, daycare center, elementary school, and community library collections." — Midwest Book Review
"An appealing tale for an expanding family.
A picture-book sequel continues to explore the life of a rambunctious, redheaded protagonist as she prepares to become a big sister. Faatz and Trimarco's (It's Just So, 2015) tale is written in Dr. Seuss–esque verse, with the occasional nonrhyming line containing an invented word (for example, 'Snowbomidable' and 'TREEMONDO-MONGOUS'). The poetry flows evenly and should be entertaining for young readers. Trimarco's illustrations also have a Seussian touch, at least in the characters' gravity-defying hairstyles. While there is a plethora of picture books dealing with the issue of becoming an older sibling, this one breaks the mold by using the gentle metaphor of the tiny tree to allow young readers to draw their own connections. Lizzy is a cute and relatable protagonist, someone who wants to be an effective helper and a reliable sister. This delightful volume will likely remain a staple for readers anticipating a new baby." — Kirkus
"5 STARS
Brenda Faatz and Peter Trimarco's picture book for children simply and eloquently shares Lizzy's experiences as she gets used to the idea of becoming a big sister and cares for the tiny sapling she rescued from the cold. I loved how the authors parallel the stories of the rescue of the tiny tree, the passing of the three seasons, and the imminent arrival of Lizzy's little (sibling)…upbeat and fun, the 'It's just so' exclamations march proudly and prominently across the bottom of each page. Peter Trimarco's illustrations are masterful. Each panel is animated and filled with marvelous detail.  It's Just So...Little! is most highly recommended." — Jack Magnus, Reader's Favorite