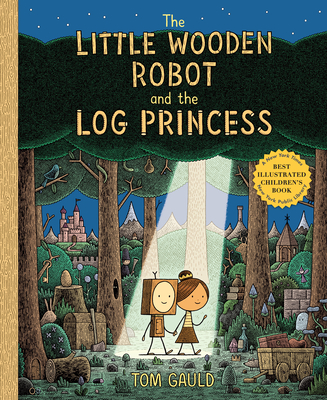 The Little Wooden Robot and the Log Princess
Publication Date:
August 24th, 2021
Publisher:
Neal Porter Books
Usually Ships in 1 to 5 Days
Description
A New York Times/New York Public Library Best Illustrated Book of the Year
 
In this fresh new fairy tale, a wooden robot embarks on a quest to find his missing sister-- making for a memorable contemporary bedtime story in acclaimed graphic novelist Tom Gauld's first picture book for children.
For years, the king and queen have tried desperately to have a baby. Their wish was granted twice, when an engineer and a witch gave them a little wooden robot and an enchanted log princess.
 
But there's just one catch: every night when the log princess sleeps, she transforms back into an ordinary log, and can only be woken up with magic words. 
 
The princess and her robot brother are are inseparable, until the sleeping princess, mistaken for lumber, is accidentally carted off to parts unknown. Now it's up to her devoted brother to find her, and get them safely back home.
 
They need to take turns to get each other home, and on the way, they face a host of adventures involving the Queen of Mushrooms, a magic pudding, a baby in a rosebush, and an old lady in a bottle.
This is acclaimed graphic novelist Tom Gauld's first picture book for children, inspired by a bedtime story he made up for his daughters. In his words, "I was trying to make a book inspired by three different sets of books: The books that I remember enjoying as a child, the books that I watched my daughters enjoying, and the books I enjoy now as an adult. I wanted the book to have its own quirky feeling but also to function like a classic bedtime story."
 
An ALSC Notable Children's Book
A Charlotte Zolotow Highly Commended Title
A People Magazine Best Kids Book of the Year
A Washington Post Best Children's Book of the Year
A Wall Street Journal Best Children's Book of the Year
A Financial Times Best Book of the Year
An NPR 'Book We Love!'
A Booklist Editors' Choice
A Shelf Awareness Best Children's Book of the Year
A Bulletin of the Center for Children's Books Blue Ribbon Book!
A Publishers Lunch Best Book of the Year
A Junior Library Guild Gold Standard Selection
An Evanston Public Library Great Books for Kids pick!
A CCBC Choice
A Mighty Girl Best Book of the Year
Praise for The Little Wooden Robot and the Log Princess
"Fairy tale tropes are upended in Gauld's charming tale of royal siblings who take turns rescuing each other."—PEOPLE
"One of the best picture books I've read this year. . . . It's impossible not to cheer for this unlikely sibling duo, the eponymous little wooden robot and his sister, the log princess. . . . The book is welcomely, and interestingly, diverse as well, shaking up familiar formulas."—The New York Times
"This funny and heartfelt book is a wonderful introduction to the language of cartooning for kids who before long will be devouring graphic novels like candy."—The Washington Post
"With appealing, clean-lined artwork and a storyline full of affectionate characters and selfless deeds, "The Little Wooden Robot and the Log Princess" will be an especially good read-aloud for families"—Wall Street Journal
★ "The brilliant pacing of the story, accomplished in both illustrations and text, make this a truly delightful tale that will be enjoyed by a wide ranging audience. With heroic beetles and delightful multiracial siblings, this is a magical offering."—School Library Journal, Starred Review  
★ "This invented fairy tale by cartoonist Gauld (Mooncop, for adults) offers whimsy, imaginative power, and narrative poise."—Publishers Weekly, Starred Review

★ "A marvelous journey. . . . Gauld's fairy tale feels both timeless and completely new; utterly fresh, yet like a story heard long ago and finally found again. Enchanting."—Kirkus Reviews, Starred Review
★ "In his children's book debut, Gauld demonstrates his love for odd, funny, invented archetypes (such as the Queen of the Mushrooms) while elsewhere playing it absolutely straight, showing respect for his audience and for the fairy-tale form."—The Horn Book, Starred Review
★ "The beautifully worded narrative and engaging artwork combine to give this picture book its considerable appeal. . . . A captivating, original fairy tale."—Booklist, Starred Review
★  "This modern fairy tale invokes its predecessors well; Gauld's art is particularly striking, with pen lines that combine the aesthetics of a classic cartoonish look and traditional woodcut art, divided frequently into comic book panels. Humor runs throughout the story. . . . This will likely be an instant bedtime staple."—The Bulletin of the Center for Children's Books, Starred Review
★ "Fairy-tale tropes are tweaked in this delightsome picture book about a couple of royal (and loyal) siblings--one a wooden boy, the other a log princess."—Shelf Awareness, Starred Review
"What an astonishingly sweet book. I worried about the log princess, loved all the adventures we never saw, and cheered the family of beetles."—Neil Gaiman
"A wooden masterpiece."—Lemony Snicket
"The part about the witch is really, really good."—Lisa Brown
"Tom Gauld has created a masterful classic fairytale of a picture book that hits in all the right ways. In his inimitable style, he has squeezed royalty, robots, witches, inventors, trolls, sea-captains, forests, ghosts, and… beetles (!) into a beautiful, odd, adventurous and satisfying story. All wrapped up, of course, with the bow of sibling love."—Oliver Jeffers
"There's a whole universe within these pages. Fun to read, clever, and kind."—Jillian Tamaki
"Tom Gauld is one of the best storytellers working and everything he does so well is here - it is beautiful, immersive, expertly told, and breathes completely on its own. I am jealous of it."—Jon Klassen
 
"I didn't know the world needed another fairy tale until I read this funny, beautiful, perfect book."—Carson Ellis
"Written and illustrated by an award-winning cartoonist and graphic novelist, this book spins a modern day fairytale which introduces young readers to a magical universe chock-full of interesting characters. Children will pour over the whimsical cartoon-style pen drawings detailed with cross hatching and colored in muted tones as they search for objects and characters shown in the background throughout the story."—School Library Connection