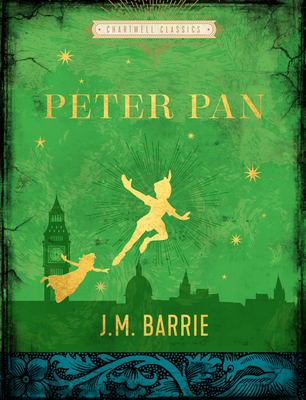 Peter Pan (Chartwell Classics)
Publication Date:
October 4th, 2022
Publisher:
Chartwell Books
Second Star to the Right
1 on hand, as of Nov 28 2:21am
(Middle Grade )
On Our Shelves Now
Description
This collectible edition of Peter Pan, packaged in a beautiful, vibrant clothbound hardcover, is unabridged and includes 12 color and black-and-white illustrations by F.D. Bedford.
Originally told as a tale by J.M. Barrie to five brothers and first produced as a play in 1904, Peter Pan is the beloved and classic story about the boy who never grows up. Follow the Darling children—Wendy, John, and Michael—as they fly over the rooftops of London to Neverland and have adventures with the Lost Boys, Tinker Bell, Tiger Lily, mermaids, and the dreadful Captain Hook and his band of pirates.
Essential volumes for the shelves of every classic literature lover, the Chartwell Classics series includes beautifully presented works and collections from some of the most important authors in literary history. Chartwell Classics are the editions of choice for the most discerning literature buffs.
 
Other titles in the Chartwell Classics series include The Essential Tales & Poems of Edgar Allen Poe; The Essential Tales of H.P. Lovecraft; The Federalist Papers; The Inferno; The Call of the Wild and White Fang; Moby Dick; The Odyssey; Pride and Prejudice; Grimm's Fairy Tales; Emma; The Great Gatsby; The Secret Garden; Anne of Green Gables; The Phantom of the Opera; The Communist Manifesto and Das Kapital; The Republic; Frankenstein; Twenty Thousand Leagues Under the Sea; The Picture of Dorian Gray; Meditations; Alice's Adventures in Wonderland and Through the Looking-Glass; A Tales of Two Cities; Beowulf; The Strange Case of Dr. Jekyll and Mr. Hyde; Adventures of Huckleberry Finn; Little Women; Wuthering Heights; The Alchemist; Persuasion; Aesop's Fables; The Constitution of the United States and Selected Writings; Crime and Punishment; Dracula; Great Expectations; The Iliad; Irish and Fairy Folk Tales; The Legend of Sleepy Hollow; The War of the Worlds; and The Time Machine and The Invisible Man.