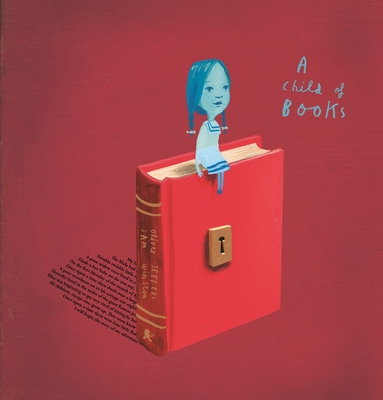 A Child of Books
Publication Date:
September 6th, 2016
Second Star to the Right
1 on hand, as of Nov 28 6:22pm
(Picture Book )
On Our Shelves Now
Description
A New York Times Bestseller!
New York Times best-selling author-illustrator Oliver Jeffers and fine artist Sam Winston deliver a lyrical picture book inspiring readers of all ages to create, to question, to explore, and to imagine.
A little girl sails her raft across a sea of words, arriving at the house of a small boy and calling him away on an adventure. Through forests of fairy tales and across mountains of make-believe, the two travel together on a fantastical journey that unlocks the boy's imagination. Now a lifetime of magic and adventure lies ahead of him . . . but who will be next? Combining elegant images by Oliver Jeffers and Sam Winston's typographical landscapes shaped from excerpts of children's classics and lullabies, A Child of Books is a stunning prose poem on the rewards of reading and sharing stories—an immersive and unforgettable reading experience that readers will want to pass on to others.
Praise for A Child of Books
A fresh and fascinating collaboration between two gifted masters.
—The New York Times Book Review
Jeffers and Winston's first collaboration is a celebration of the child's world, illustrated in sumptuous double-page spreads featuring explosions of images borrowed from unforgettable sources...Every one of its elements—the haunting prose poem executed in hand- lettered words; the pictures done in watercolor, pencil, and digital collage; and the objects built from words borrowed from classic stories—all work together toward a richly harmonious whole. An irresistible invitation to read.
—Booklist (starred review)
Jeffers and Winston's mixed-media artwork, an inventive combination of watercolor, pencil, and digital collage, elicits strong notice from readers. Jeffers' uneven, hand-lettered text contrasts dramatically with Winston's digitally manipulated lines of classic prose...An ingenious, confident, and pretty cool exploration of literary delight.
—Kirkus Reviews (starred review)
A gorgeous, innovative musing on the power of storytelling. A nameless young girl who calls herself a child of books narrates in lyrical, spellbinding verse. Some, she says, have forgotten the importance of stories, but she finds a boy and introduces him to her world, a land created through a marriage of Jeffers's evocative art and Winston's masterly use of typography...Use this wholly original celebration of the story as a jumping-off point for conversations about art and writing. A masterpiece.
—School Library Journal (starred review)
Jeffers and typographic artist Winton collaborate on a hymn to the power of imagination, in which witty pen-and-ink drawings meet manipulated blocks of type, composed of passages from children's classics...the energy of the images bursts from the pages, "for imagination is free."
—Publishers Weekly
This delightful treasure hunt through children's literature will have you digging through your bookshelves, hunting for forgotten phrases and making room among the tomes for this book.
—BookPage
This haunting mixed-media art book will appeal to literature lovers of all ages.
—New York Post
Each illustration cleverly incorporates text from classic works of literature into the art...This is fantastically imaginative and smart book that is sure to engage children of all ages.
—Cool Mom Picks (blog)
It's a lyrical picture book that celebrates the power of imagination...What a great way to stretch the imagination and teach reading all at once!
—Parents.com
Literature lovers won't want to miss A Child of Books by Oliver Jeffers and Sam Winston.
—Parents magazine
As masterful as a book can be in extolling the richness that reading brings to our lives, "A Child of Books" is a glorious offering.
—Reading Eagle (from Kendal Rautzhan)
Kids and adults alike will marvel at the artistry and the message of A Child of Books, that we can build our own houses of invention and creativity where all are welcome, "for imagination is free."
—Omnivoracious (blog)