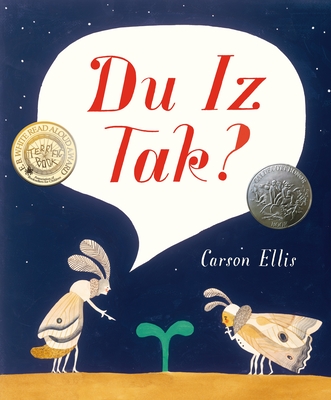 Du Iz Tak?
Publication Date:
October 18th, 2016
Second Star to the Right
1 on hand, as of Dec 9 10:22am
(Picture Book )
On Our Shelves Now
Description
A 2017 Caldecott Honor Book

The creator of Home turns a droll eye to the natural world, with gorgeous art and a playful invented language.
Du iz tak? What is that? As a tiny shoot unfurls, two damselflies peer at it in wonder. When the plant grows taller and sprouts leaves, some young beetles arrive to gander, and soon—with the help of a pill bug named Icky—they wrangle a ladder and build a tree fort. But this is the wild world, after all, and something horrible is waiting to swoop down—booby voobeck!—only to be carried off in turn. Su! With exquisitely detailed illustrations and tragicomic flair, Carson Ellis invites readers to imagine the dramatic possibilities to be found in even the humblest backyard. Su!
Praise for Du Iz Tak?
Carson Ellis has created a fantastic microcosm with her usual grace and inventiveness...I was completely captivated by Ellis's wonderful creatures, their charming little world and their droll language.
—The New York Times Book Review
Ellis (Home, 2015) elevates gibberish to an art form with her brilliant account of a few bugs, who discover a green shoot sprouting from the ground...Readers and pre-readers alike will find myriad visual cues in Ellis' splendid folk-style, gouache-and-ink illustrations that will allow them to draw meaning from the nonsensical dialogue, as well as observe the subtle changing of the seasons. The entire story unfolds on the same small stretch of ground, where each new detail is integral to the scene at hand. Effortlessly working on many levels, Ellis' newest is outstanding.
—Booklist (starred review)
Viewers follow the unfurling of an exotic woodland plant through the actions and invented language of beautifully coiffed and clothed insects...This is certain to ignite readers' interest and imaginings regarding their natural surroundings. Following the minute changes as the pages turn is to watch growth, transformation, death, and rebirth presented as enthralling spectacle.
—Kirkus Reviews (starred review)
In a wordless coda of successive double-page spreads we are comforted by the cycle of the seasons. By the final words, "Du iz tak?" we are fluent speakers of Bug. Completely scrivadelly, this is a tour de force of original storytelling.
—Horn Book (starred review)
Ellis's (Home) bewitching creation stars a lively company of insects who speak a language unrelated to English, and working out what they are saying is one of the story's delights...Very gently, Ellis suggests that humans have no idea what wonders are unfolding at their feet—and that what takes place in the lives of insects is not so different from their own. Has there ever been anything quite like it? Ma nazoot.
—Publishers Weekly (starred review)
It's a genuinely charming story with brain-tickling interest from the dialogue, and it earns a satisfying edge from the silent and decisive victory over the spider. Ellis is best known as an illustrator, and her oversized gouache and ink spreads deftly balance playfulness and precision, intricacy and airy background...Readers-aloud will want a practice run to ensure their intonation carries the meaning of the words, but it will all make perfect and pleasing sense to imaginative listeners.
—Bulletin of the Center for Children's Books (starred review)
Using intricate illustrations supported by spare dialogue in an invented language, Ellis elegantly weaves the tale of several square feet of ground in the insect world as the seasons pass...This is a title that calls for multiple readings, as there is something new to be discovered each time. Perfect for one-on-one or small group sharing.
—School Library Journal
High drama ensues in the clean, odd, beautiful pages ahead. A marvel.
—Shelf Awareness for Readers
Ellis' precise and detailed illustrations of bespectacled bugs and an elaborate fort utterly beguile...It would be easy to make such a story clever for the sake of being clever, but instead Ellis has created one of the smartest, most original and most endearing picture books of this year. Du iz tak? It's a keeper is what it is.
—BookPage
Sophisticated, curious, well-dressed bugs watch as a plant shoot grows and blossoms into a magnificent flower. Their miniature world is alluringly well-realized and includes an invented language, which young readers delight in decoding.
—The Boston Globe
There's an elusive yet distinctly joyful quality to Carson Ellis's picture book that feels like suspended glee, or a laugh caught halfway in the throat. As in her 2015 debut, "Home," the gouache and ink illustrations in "Du Iz Tak?" are chic and subtly witty. But this time Ms. Carson matches them with dialogue in the enchanting foreign language of the elegantly dressed beetles and insects that live on a small, eventful patch of earth.
—The Wall Street Journal
Written entirely in the playful and amusing language of bugs, it isn't necessary to speak fluent moth or ladybug to enjoy the growth and metamorphoses creatively combined through Carson Ellis's delightful words and fanciful illustrations as the seasons subtly transform.
—ForeWord Reviews
With minimal text and crisp images, Ellis's book is deceptively simple, but don't be fooled; this whimsical story requires a close reading to truly absorb all its subtle delights.
—Globe and Mail
Here's a bright, refined fantasy world to be lost in, and one that has its dark, seasonal drama to boot. Good for kids who like to imagine miniature worlds.
—Toronto Star
A bold retro color palette and lots of white space allow a big beautiful story plenty of room to breathe.
—Chicago Tribune
A discerning eye and ear are prerequisites for decoding this elegantly esoteric concoction, and they are outcomes, too.
—San Francisco Chronicle