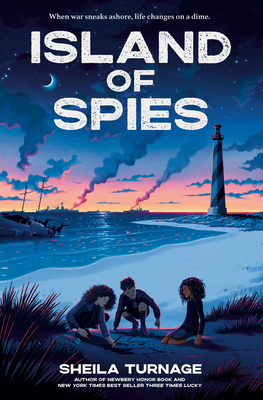 Island of Spies
Publication Date:
September 20th, 2022
Second Star to the Right
1 on hand, as of Dec 9 10:22am
(Middle Grade )
On Our Shelves Now
Description
"The Dime Novel Kids are spunky, spirited, smart, sassy—and so is Sheila Turnage's writing. It sizzles and sparkles." —Lauren Wolk, author of Newbery Honor Book Wolf Hollow
From the Newbery Honor-winning author of Three Times Lucky comes a middle grade WWII spy mystery with as much humor and heart as high stakes
Twelve-year-old Stick Lawson lives on Hatteras Island, North Carolina, where life moves steady as the tides, and mysteries abound as long as you look really hard for them. Stick and her friends Rain and Neb are good at looking hard. They call themselves the Dime Novel Kids. And the only thing Stick wants more than a paying case for them to solve is the respect that comes with it. But on Hatteras, the tides are changing. World War II looms, curious newcomers have appeared on the small island, and in the waters off its shores, a wartime menace lurks that will upend Stick's life and those of everyone she loves. The Dimes are about to face more mysteries than they ever could have wished for, and risk more than they ever could have imagined.
"Big, beautifully unfolding adventure and mystery, [and characters] who jump off the page and straight into your heart." —Kimberly Willis Holt, author of National Book Award Winner When Zachary Beaver Came to Town

"Fast-paced and suspenseful. The story contains many twists, and it's packed with humor." —The Week Junior
"Charming and funny, [abounding in] codes and clues, spies, and double agents. —PW
"Smart kids save the day in this engaging WWII spy mystery." —Common Sense Media 
"Lively narration will quickly draw readers into the story, which twists and turns cleverly. —Booklist
"A little-known piece of American history [makes for] an entertaining saga of island life." —Kirkus
"Funny, crisp, and clever." —The Horn Book
"Stick is the kind of protagonist I wish was my best friend . . . . I can't get enough of her." —Gennifer Choldenko, author of Newbery Honor Book Al Capone Does My Shirts
Praise for Island of Spies
"The Dime Novel Kids are spunky, spirited, smart, sassy—and so is Sheila Turnage's writing. It sizzles and sparkles. Turnage deftly weaves history with fiction, humor with drama, light with dark to produce a concoction as compelling as its protagonist. There are shades of Agatha Christie in this kaleidoscope of characters and clues. Kids will have a ton of fun when they visit Island of Spies." —Lauren Wolk, author of Newbery Honor Book Wolf Hollow
"Turnage takes a little-known piece of American history and sets it solidly among realistic characters and an entertaining saga of island life." —Kirkus Reviews
"Smart kids save the day in this engaging WWII spy mystery . . . a fun, entertaining story that will keep kids engaged while they learn a lot of little-known history and about life in the Outer Banks of North Carolina during World War II. Island of Spies narrator Stick and her two best friends are well developed, realistic characters, each with their own quirks and strengths, who readers will find easy to root for. A Common Sense Selection." —Common Sense Media
"Fast-paced and suspenseful. The story contains many twists, and it's packed with humor. Be sure to read the note from the author that explains the real-life attacks on American ships that inspired the book." —The Week Junior
"Turnage's clever 1942-set mystery [is as] charming and funny as the island setting, the kids' antics, and the quirky cast. [Stick Lawson's] passion for equality is depicted through her insistence that girls should be allowed to defend the island and her staunch defense of Rain, who experiences racism on the largely white island. [Amidst] codes and clues, spies and double agents . . . one message is made abundantly clear: "In times of danger, bet on each other." —Publishers Weekly

"Tried and true: plucky kids outwitting the adults. . . . Funny, crisp, and clever." —The Horn Book
"Turnage, who wrote the Newbery Honor Book Three Times Lucky, bases this historical novel on research into WWII [constructing a] mystery with many characters and motives for readers to consider. Stick's lively narration will quickly draw readers into the story, which twists and turns cleverly before reaching its conclusion." —Booklist

"Stick and the Dime Novel Kids jump off the page and straight into your heart. Sheila Turnage is a master plotter, delivering big, beautifully unfolding adventure and mystery against an historical event. Her skilled use of humor, even in the most poignant moments, is enviable. Sometimes you can tell when a writer loved writing their story. Turnage must have had a heck of a great time!" —Kimberly Willis Holt, author of National Book Award Winner When Zachary Beaver Came to Town
"No mystery goes unsolved on Hatteras Island in 1942 because the Dime Novel Kids are always on the case. . . . The plot gently unfurls the island's complex dynamics, [and] rather than just capitalizing on the aesthetic of the setting, [Turnage] addresses issues of race in both the treatment of biracial Rain on the island and allusions to immoral actions of the U.S. government." —BCCB
"Sheila Turnage is a master of voice. Stick is the kind of protagonist I wish was my best friend—she makes me laugh out loud, smile to myself, and wish I could sit next to her at lunch. I can't get enough of her." —Gennifer Choldenko, author of Newbery Honor Book Al Capone Does My Shirts