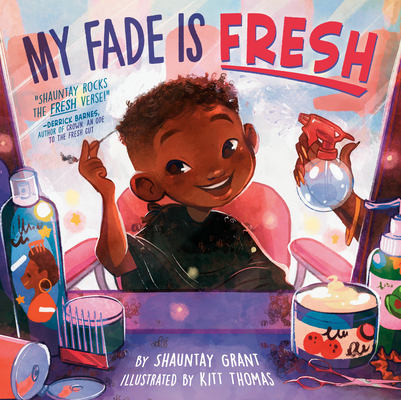 My Fade Is Fresh
Publication Date:
November 1st, 2022
Publisher:
Penguin Workshop
Usually Ships in 1 to 5 Days
Description
A little girl makes sure she walks out of the barbershop rocking the fabulous hair style she chooses.
Learn the importance of speaking up for what you want through this fun and empowering picture book.
When a little girl walks into her local barbershop, she knows she wants the flyest, freshest fade on the block! But there are so many beautiful hairstyles to choose from, and the clients and her mother suggest them all: parts, perms, frizzy fros, dye jobs, locs, and even cornrows!
But this little girl stays true to herself and makes sure she leaves the shop feeling on top with the look she picks!
Author Shauntay Grant's sweet, rhyming story encourages young girls to be self-confident and celebrates the many shapes and forms Black hair can take. Through their stunning illustrations, Kitt Thomas is able to bring life and movement to the versatile styles featured in this book.
Praise for My Fade Is Fresh
Praise for MY FADE IS FRESH By Shauntay Grant:
★ "A winner-takes-all glimpse of one of childhoods major milestones, taking agency over fashion choices, personality, and style." —School Library Journal, starred review
★ "The call and response detailing myriad creative Black hairstyles is both ahumorous romp and a glorious celebration of Black beauty. This fun, powerful, and empowering tale belongs on every shelf." —Kirkus Reviews, starred review
★ "Pays tribute to the beautiful versatility of Black hair while emphasizing the importance of a kid staying true to themself. An affirming, communal take on a routine barbershop visit, starring a cool, collected child who knows their mind." —Publisher's Weekly, starred review
★ "Thomas' illustrations are as fresh as the girl's new look, pulling in vibrant colors and a graffiti-mural style…[T]his book is perfect for kids learning about self-expression, confidence, and decision-making, and the energetic illustrations and humorous story line provide a great reading experience for any child, whether they are familiar with barbershops or not." —Booklist, starred review" 
"The "be yourself" message is a perennial favorite of picture books, but this one brings a lively freshness with its joyful cast and exuberant celebration of Black hair. The bouncing rhyme makes it an ideal storytime selection. The dynamic illustrations effortlessly match the text's energy...his sweet ode to both Black hair and individual choice is a guaranteed crowd-pleaser." —BCCB Reviews
"Representation matters, and this book is a reflection of all of us who say YES to ourselves even when people try to steer us different." —Luvvie Ajayi Jones, New York Times best-selling author of Professional Troublemaker
"Shauntay rocks the FRESH verse!" —Derrick Barnes, author of Crown: An Ode To The Fresh Cut