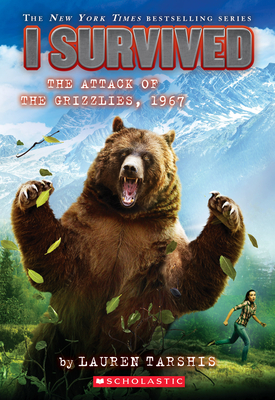 I Survived the Attack of the Grizzlies, 1967 (I Survived #17)
Publication Date:
September 25th, 2018
Publisher:
Scholastic Paperbacks
Usually Ships in 1 to 5 Days
Description
New York Times bestselling author Lauren Tarshis tackles the historic grizzly bear attacks in Glacier National Park in this latest installment of the groundbreaking I Survived series.
No grizzly has ever killed a human in Glacier before . . . until tonight. Eleven-year-old Melody Vega and her family come to Glacier National Park every year, and it's always been a place where she can forget her troubles. But this year is different. With Mom gone, every moment in the park is a heartbreaking reminder of the past.Then Mel comes face-to-face with the mighty grizzly. Now her only thought is one of survival. Mel will soon be a part of one of the most tragic seasons in the history of America's national parks - a summer of terror that will forever change ideas about how grizzlies and humans can exist together in the wild.
Praise for I Survived the Attack of the Grizzlies, 1967 (I Survived #17)
Praise for I Survived the American Revolution, 1776:
"Tarshis successfully blends historical fact with an involving narrative." -- School Library Journal
Praise for I Survived the Destruction of Pompeii, AD 79:
"Tarshis serves up another gripping adventure... with the light-speed pacing and death-defying maneuvering fans have come to expect." -- Booklist
Praise for I Survived the Battle of Gettysburg, 1863:
"Informative and breathlessly paced." -- Kirkus Reviews
Praise for I Survived The Attacks of September 11, 2001:
"[Tarshis] crafts a dramatic, emotionally intense tale that takes account of 9/11's physical and emotional costs -- short- and long-term -- while ending on an upward beat." -- Kirkus Reviews
Praise for I Survived Hurricane Katrina, 2005:
"Expressive illustrations capture the drama of the storm and its aftermath, but the book's real power comes from its exploration of what it means to be a hero." -- Booklist
Praise for I Survived the Shark Attacks of 1916:
"A gripping story that will hold the interest of reluctant readers." -- School Library Journal
Praise for I Survived the Sinking of the Titanic, 1912:
"The fast pace and intrinsically fascinating disaster story will keep readers turning the pages." -- Kirkus Reviews
Praise for I Survived the American Revolution, 1776:
"Tarshis successfully blends historical fact with an involving narrative." -- School Library Journal
Praise for I Survived the Destruction of Pompeii, AD 79:
"Tarshis serves up another gripping adventure... with the light-speed pacing and death-defying maneuvering fans have come to expect." -- Booklist
Praise for I Survived the Battle of Gettysburg, 1863:
"Informative and breathlessly paced." -- Kirkus Reviews
Praise for I Survived The Attacks of September 11, 2001:
"[Tarshis] crafts a dramatic, emotionally intense tale that takes account of 9/11's physical and emotional costs -- short- and long-term -- while ending on an upward beat." -- Kirkus Reviews
Praise for I Survived Hurricane Katrina, 2005:
"Expressive illustrations capture the drama of the storm and its aftermath, but the book's real power comes from its exploration of what it means to be a hero." -- Booklist
Praise for I Survived the Shark Attacks of 1916:
"A gripping story that will hold the interest of reluctant readers." -- School Library Journal
Praise for I Survived the Sinking of the Titanic, 1912:
"The fast pace and intrinsically fascinating disaster story will keep readers turning the pages." -- Kirkus Reviews
Praise for I Survived the American Revolution, 1776:"Tarshis successfully blends historical fact with an involving narrative." -- School Library JournalPraise for I Survived the Destruction of Pompeii, AD 79:"Tarshis serves up another gripping adventure... with the light-speed pacing and death-defying maneuvering fans have come to expect." -- BooklistPraise for I Survived the Battle of Gettysburg, 1863:"Informative and breathlessly paced." -- Kirkus ReviewsPraise for I Survived The Attacks of September 11, 2001:"[Tarshis] crafts a dramatic, emotionally intense tale that takes account of 9/11's physical and emotional costs -- short- and long-term -- while ending on an upward beat." -- Kirkus ReviewsPraise for I Survived Hurricane Katrina, 2005:"Expressive illustrations capture the drama of the storm and its aftermath, but the book's real power comes from its exploration of what it means to be a hero." -- BooklistPraise for I Survived the Shark Attacks of 1916:"A gripping story that will hold the interest of reluctant readers." -- School Library JournalPraise for I Survived the Sinking of the Titanic, 1912:"The fast pace and intrinsically fascinating disaster story will keep readers turning the pages." -- Kirkus Reviews