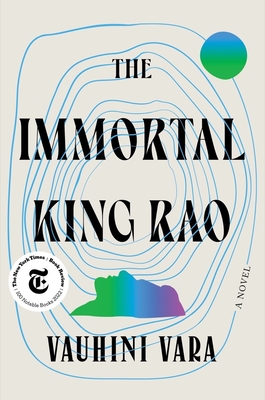 The Immortal King Rao: A Novel
Publication Date:
May 3rd, 2022
Publisher:
W. W. Norton & Company
Second Star to the Right
2 on hand, as of Nov 28 2:21am
(TEMPS )
On Our Shelves Now
Description
Finalist for the 2023 Pulitzer Prize in Fiction • One of The New York Times 100 Notable books of 2022 • One of NPR's Books We Love in 2022 • Named a Best Book of the Year by Esquire, Vox, Philadelphia Inquirer, and Literary Hub
Shortlisted for the 2022 Center for Fiction First Novel Prize
"A monumental achievement." —Justin Taylor, New York Times
"A premonitory, daring book." —Mallika Rao, New York
"Brilliant and beautifully written." —Alex Preston, The Observer
In an Indian village in the 1950s, a precocious child is born into a family of Dalit coconut farmers. King Rao will grow up to be the most accomplished tech CEO in the world and, eventually, the leader of a global, corporate-led government.
In a future in which the world is run by the Board of Corporations, King's daughter, Athena, reckons with his legacy—literally, for he has given her access to his memories, among other questionable gifts.
With climate change raging, Athena has come to believe that saving the planet and its Shareholders will require a radical act of communion—and so she sets out to tell the truth to the world's Shareholders, in entrancing sensory detail, about King's childhood on a South Indian coconut plantation; his migration to the U.S. to study engineering in a world transformed by globalization; his marriage to the ambitious artist with whom he changed the world; and, ultimately, his invention, under self-exile, of the most ambitious creation of his life—Athena herself.
The Immortal King Rao, written by a former Wall Street Journal technology reporter, is a resonant debut novel obliterating the boundaries between literary and speculative fiction, the historic and the dystopian, confronting how we arrived at the age of technological capitalism and where our actions might take us next.
Praise for The Immortal King Rao: A Novel
[The Immortal King Rao] is a monumental achievement: beautiful and brilliant, heartbreaking and wise, but also pitiless, which may be controversial to list among its virtues but is in fact essential to its success. Vara respects her reader and herself too much to yield to the temptation to console us. How rare these days as a reader — and how bracing, in the finest way — to encounter a novel that refuses to treat you like a child or a studio audience. If that were the only thing to love about 'Rao,' it would probably be enough. But as I've said, there's also everything else.
— Justin Taylor - The New York Times
Utterly, thrillingly brilliant. From the first unforgettable page to the last, The Immortal King Rao is a form-inventing, genre-exploding triumph. Vauhini Vara's bravura debut has reshaped my brain and expanded my heart.
— R.O. Kwon, author of The Incendiaries
In this richly imagined saga spanning past, present, and future, Vauhini Vara brings us a visionary who makes the world in his image, and the strong-willed daughter whose life could be his final legacy. Vara's brilliance is matched only by her heart, and this unforgettable debut will challenge what you think you know about genius, capitalism, consciousness, and what it means to be human.
— Anna North, author of Outlawed
[The Immortal King Rao] is a nuanced portrayal of a community that rarely appears in novels published by major presses in the West... In Vara's book, Dalits are not victims, but entrepreneurs, innovators and geniuses.
— Alisha Haridasani Gupta - The New York Times
Vara comes out the gate with a masterwork: a book that is three great novels in one–the tale of a thriving and chaotic Dalit clan in the first decades of independent India; an immigrant success story in '80s America; and a dystopian nightmare of the post-Trump future.
— Karan Mahajan, author of The Association of Small Bombs
The Immortal King Rao is an odyssey of the grandest scale, spanning over a century and charting a Dalit immigrant's rise to world power. Vauhini Vara fuses intricate family lore with the history of tech solutionism and capitalist demagoguery, pointing forward to a dangerously likely future of corporate dominion; she writes with the meticulous clarity of a longform journalist, the explosive force of a Trident missile, and the ambition of her own brilliant protagonists.
— Tony Tulathimutte, author of Private Citizens
An exacting writer of the digital age, journalist Vara makes her debut with a trippy novel that marries the family saga with a biotech satire. … Vara has a gift for humanizing the invisible labor that happens behind our screens. Who, if anyone, can really separate themselves from the digital ties that bind us?
— Jessica Jacolbe - Vulture
A brilliant and beautifully written book about capitalism and the patriarchy, about Dalit India and digital America, about power and family and love.
— Alex Preston - The Observer
A fully imagined world: propulsive, prophetic, dizzying.
— Jeet Thayil, author of Names of the Women
An astonishing debut. An amazing imagination. Vara's voice is thrilling, original, dynamic and ever-surprising as her characters move from world to world, from the real to the fantastic, examining the myriad contradictory shapes in which love can appear.
— Chitra Banerjee Divakaruni, author of The Last Queen
Whether exploring the past or near-future, Vara's keen journalistic skills reveal aspects of post-Independence India, the diasporic immigrant life, tech-driven hierarchies, climate change, and more in ways that prompt questions about our present realities.
— Jenny Bhatt - NPR
A premonitory, daring book that lands somewhere between speculative fiction and bildungsroman, storytelling and fortune-telling.
— Mallika Rao - New York
[Vara] brilliantly describes a world that isn't real but feels like it soon could be.
— Adrienne Gaffney - Elle
A remarkably tender and continually unpredictable story about familial and romantic love, ambition and greed, alienation and revolution, and one man's unquenchable desire to leave a lasting mark on the world.
— Laura Sackton - BookPage
In this capacious work of imagination, alluringly narrated by King Rao's daughter Athena, who is accused of his murder, 'Shareholders' hold the power to free her as the ecosystem is being destroyed.
— National Book Review
Thrilling...Vara has penned a dynamic and haunting world...The Immortal King Rao is a jarring and meticulous critique of how progress is often confused with goodness.
— Anjali Enjeti - Star Tribune
Navigates vastly differing topographies, societies and timelines, with masterful ease that is, paradoxically, astounding...impressive both in its intention and scope...The Immortal King Rao is, without a doubt, literary fiction at its finest.
— Nidhi Verma - Platform
Potent ... not to be missed.
— Publishers Weekly (starred review)
Alternating between Rao's childhood in a small Indian village, his early student days in the US, and the dystopian society in which Athena has to function, Vara's original debut delivers challenging and weighty themes with a sure hand.
— Poornima Apte - Booklist (starred review)