Staff Pick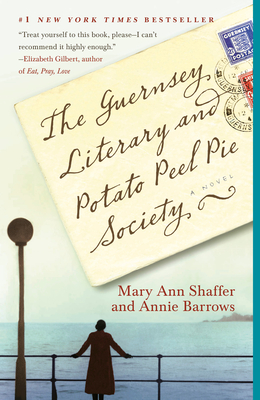 The Guernsey Literary and Potato Peel Pie Society: A Novel
Publication Date:
May 5th, 2009
Publisher:
Dial Press Trade Paperback
Usually Ships in 1 to 5 Days
By the third page of this wonderful epistolary novel of the island of Guernsey during the German occupation, I was captivated by its characters, especially the charming, self-effacing author, Juliet Ashton, and her emerging friendship, conducted by post, with the recently liberated islanders. The whole novel is an homage to books and bibliophiles, and a moving reflection on the horrors of war.
Spring/Summer '09 Reading Group List
Just after World War II, a journalist and author is looking for her next big project when by chance, she receives a letter from a man on Guernsey, the British island that was occupied by the Germans. Gradually she becomes absorbed into the stories and lives of the island's inhabitants. Funny, poignant, and charming, this is a novel that would make a marvelous read for anyone.
Fall '09/Winter '10 Reading Group List
Description
#1 NEW YORK TIMES BESTSELLER • NOW A NETFLIX FILM • A remarkable tale of the island of Guernsey during the German Occupation, and of a society as extraordinary as its name.
"Treat yourself to this book, please—I can't recommend it highly enough."—Elizabeth Gilbert, author of Eat, Pray, Love
"I wonder how the book got to Guernsey? Perhaps there is some sort of secret homing instinct in books that brings them to their perfect readers." January 1946: London is emerging from the shadow of the Second World War, and writer Juliet Ashton is looking for her next book subject. Who could imagine that she would find it in a letter from a man she's never met, a native of the island of Guernsey, who has come across her name written inside a book by Charles Lamb. . . .
As Juliet and her new correspondent exchange letters, Juliet is drawn into the world of this man and his friends—and what a wonderfully eccentric world it is. The Guernsey Literary and Potato Peel Pie Society—born as a spur-of-the-moment alibi when its members were discovered breaking curfew by the Germans occupying their island—boasts a charming, funny, deeply human cast of characters, from pig farmers to phrenologists, literature lovers all.
Juliet begins a remarkable correspondence with the society's members, learning about their island, their taste in books, and the impact the recent German occupation has had on their lives. Captivated by their stories, she sets sail for Guernsey, and what she finds will change her forever.
Written with warmth and humor as a series of letters, this novel is a celebration of the written word in all its guises and of finding connection in the most surprising ways.
Praise for The Guernsey Literary and Potato Peel Society
"A jewel . . . Poignant and keenly observed, Guernsey is a small masterpiece about love, war, and the immeasurable sustenance to be found in good books and good friends."—People
"A book-lover's delight, an implicit and sometimes explicit paean to all things literary."—Chicago Sun-Times

"A sparkling epistolary novel radiating wit, lightly worn erudition and written with great assurance and aplomb."—The Sunday Times (London)
"Cooked perfectly à point: subtle and elegant in flavour, yet emotionally satisfying to the finish."—The Times (London)
Praise for The Guernsey Literary and Potato Peel Pie Society: A Novel
"I can't remember the last time I discovered a novel as smart and delightful as this one, a world so vivid that I kept forgetting this was a work of fiction populated with characters so utterly wonderful that I kept forgetting they weren't my actual friends and neighbors. Treat yourself to this book please—I can't recommend it highly enough."—Elizabeth Gilbert, author of Eat, Pray, Love

"Traditional without seeming stale, and romantic without being naive . . . It's tempting to throw around terms like 'gem' when reading a book like this. But Guernsey is not precious. . . . This is a book for firesides or long train rides. It's as charming and timeless as the novels for which its characters profess their love."—San Francisco Chronicle Book Review
"[The] characters step from the past radiant with eccentricity and kindly humour. [The] writing, with its delicately offbeat, self-deprecating stylishness, is exquisitely turned."—The Guardian (U.K.)
"I've never wanted to join a club so desperately as I did while reading Guernsey. . . . [The novel] is a labor of love and it shows on almost every page."—The Christian Science Monitor
"I could not put the book down. I have recommended it to all my friends."—Newsday
"A jewel . . . Poignant and keenly observed, Guernsey is a small masterpiece about love, war, and the immeasurable sustenance to be found in good books and good friends."—People
"A book-lover's delight, an implicit and sometimes explicit paean to all things literary."—Chicago Sun-Times

"A sparkling epistolary novel radiating wit, lightly worn erudition and written with great assurance and aplomb."—The Sunday Times (London)
"Cooked perfectly à point: subtle and elegant in flavour, yet emotionally satisfying to the finish."—The Times (London)
"A sweet, sentimental paean to books and those who love them. . . . It affirms the power of books to nourish people enduring hard times."—The Washington Post Book World
"[A] marvelous debut . . . This is a warm, funny, tender, and thoroughly entertaining celebration of the power of the written word."—Library Journal

"A poignant, funny novel that celebrates the resilience of the human spirit. . . . A treat."—The Boston Globe

"A sure winner."—Kirkus Reviews
"Delightful . . . One of those joyful books that celebrates how reading brings people together."—New Orleans Times-Picayune
"Mary Ann Shaffer and Annie Barrows have written a wondrous, delightful, poignant book— part Jane Austen, part history lesson. The letters aren't addressed to you, but they are meant for you. It's a book everyone should read. An absolute treasure."—Sarah Addison Allen, author of Garden Spells