Staff Pick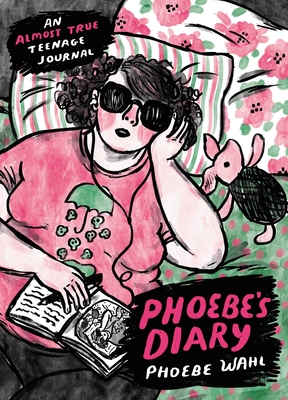 Phoebe's Diary
Publication Date:
September 5th, 2023
Publisher:
Little, Brown Books for Young Readers
Usually Ships in 1 to 5 Days
Staff Reviews
Phoebe's Diary - I feel really lucky to have received an advanced copy of Phoebe Wahl's newest book which doesn't come out until September, so here's your heads up to preorder now! Phoebe's Diary is technically YA but felt like it was written for me, too—it encapsulates the millennial coming-of-age experience but in a beautifully universal way as the narrator navigates friendship turbulence, familial strife, and fledgling sexual encounters. The book is 464 pages and yet I devoured it and was devastated when it ended. Can't recommend enough!
— Elizabeth
Description
INSTANT NATIONAL BESTSELLER!
Drawn from real life, here is a bracingly honest illustrated diary of a teenage girl that captures the explosive turmoil and joy of adolescence.
 
Meet Phoebe. She's cool and insecure, talented and vulnerable, sexy and awkward, driven and confused, ecstatic and tragic.
Like you.
And here is her diary, packed full of invaluable friends and heartbreaking crushes, spectacular playlists and vintage outfits, drama nerds and art kids, old wounds and new love. Based on her own teenage diary, Phoebe Wahl has melded truth with fiction and art with text, casting a spell that brings readers deep into the experience of growing up.
Praise for Phoebe's Diary
Praise for Phoebe's Diary:
"Phoebe's Diary honestly captures teenage angst, confusion, and the yearning for love and identity. In parts funny and philosophical, it speaks to every person on earth."—Maira Kalman, award-winning and bestselling author, artist, and designer
"I couldn't stop smiling as I read this relentlessly relatable book. Phoebe Wahl has created a glittering treasure map of teenage life. She illuminates a year of adolescent longing, discovery, pleasure, and heartbreak. It is deeply sweet, sexy, and true. I wanted it to last forever."—Sophia Glock, creator of the graphic memoir Passport
* "Wahl's distinctive, instantly recognizable art adds humor and heart to each page. . . . An earnest, relatable, and affecting celebration of teenage yearning."—Kirkus, starred review
* "In her emotionally vulnerable YA debut, Wahl (Little Witch Hazel) revisits her high school diaries to deliver a fictional adaptation of her adolescence…skillfully presenting a raw, unfiltered story about growing up and taking risks that will surely resonate."—Publishers Weekly, starred review