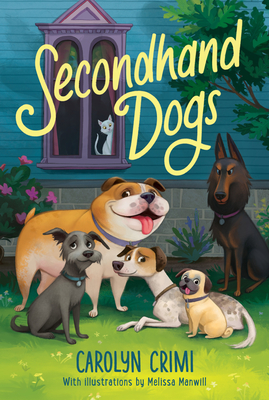 Secondhand Dogs
Publication Date:
July 18th, 2023
Usually Ships in 1 to 5 Days
Description
A heartwarming—and heart-tugging—middle grade novel about love, loyalty, and what it means to be part of a family—from author Carolyn Crimi, with adorable illustrations by Melissa Manwill. Perfect for fans of A Dog's Life and Because of Winn-Dixie.
Miss Lottie's home was for second chances.
When she adopted Gus, Roo, Tank, and Moon Pie, Miss Lottie rescued each member of the pack—including herself, her helper, Quinn, and her reclusive cat, Ghost—and turned them into a family. But when a new dog, Decker, arrives and tries to hoard Miss Lottie's heart and home for himself, the pack's future is threatened.
At first, Gus, the insecure pack leader, only notices little things, like tiny Moon Pie being kicked out of the bed and Ghost acting spooked (then again…Ghost is a cat). But things soon go from bad to worse as Decker's presence causes disharmony in the group.
When Decker convinces Moon Pie to embark on an impossible journey, it's up to Gus to gather his courage, rally his splintered pack, and bring the little dog home. And with coyotes and cars on the loose, the pack must push through obstacles and dangers to reunite with Moon Pie before he can get hurt—or, nearly as bad, get his heart broken.
Praise for Secondhand Dogs
"Pervading themes of bullying, leadership, loyalty, and family—among humans and canines alike—raise important issues while the comic-style illustrations feature character cameos and highlight key scenes. A sensitive, satisfying, and intriguing canine tale"  — Kirkus Reviews
"The light tension and heartwarming message will propel middle graders through to the very end." — School Library Journal
"A timely and big-hearted reminder of what's most important in life for all creatures, whether two- or four-legged" — Kirby Larson, Newbery Honor Award-winning author of Hattie Big Sky 
"A perfect book for dog lovers to see how a true pack is run with every member's well-being in mind. Gus is a wonderful (dog) role model for all kids to learn about good leadership skills and, more importantly, the strength that comes from showing empathy." — Cammie McGovern, author of Just My Luck