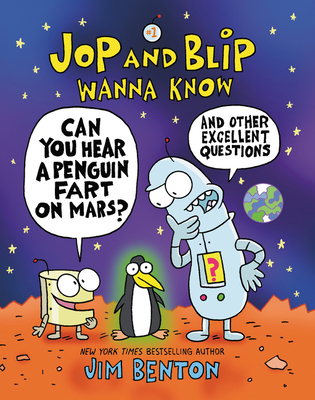 Jop and Blip Wanna Know #1: Can You Hear a Penguin Fart on Mars?: And Other Excellent Questions
Publication Date:
June 29th, 2021
Usually Ships in 1 to 5 Days
Description
*Winner of the 2022 Pop Culture Classroom Excellence in Graphic Literature Award for Best Children's Nonfiction!*
Two curious robots seek the answers to life's most pressing—and hilarious—questions in this full-color graphic novel series by Jim Benton, New York Times bestselling author and creator of Franny K. Stein and Catwad!
Join Jop and Blip as they follow their curiosity and investigate these seemingly odd questions using their own brand of logic, critical thinking skills, STEM knowledge, and humor.
• Can you hear a penguin fart on Mars?
• What if you wanted a dragon sandwich?
• Why do we need TWO ears?
With Jop and Blip, everything is worth knowing! Perfect for fans of Dav Pilkey and Dan Gutman!
Praise for Jop and Blip Wanna Know #1: Can You Hear a Penguin Fart on Mars?: And Other Excellent Questions
"Underscore the notion that even—or perhaps especially—silly questions are always worth asking. Nourishing fare for readers with a burning need to know."
— Kirkus Reviews (starred review)