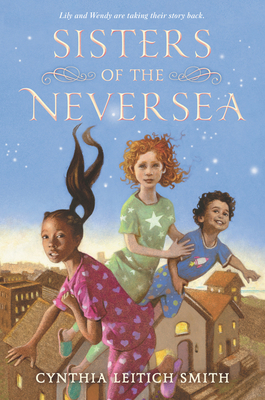 Sisters of the Neversea
Publication Date:
May 3rd, 2022
Usually Ships in 1 to 5 Days
Description
Five starred reviews! In this beautifully reimagined story by NSK Neustadt Laureate and New York Times bestselling author Cynthia Leitich Smith (Muscogee Creek), Native American Lily and English Wendy embark on a high-flying journey of magic, adventure, and courage to a fairy-tale island known as Neverland…
Lily and Wendy have been best friends since they became stepsisters. But with their feuding parents planning to spend the summer apart, what will become of their family—and their friendship?
Little do they know that a mysterious boy has been watching them from the oak tree outside their window. A boy who intends to take them away from home for good, to an island of wild animals, Merfolk, Fairies, and kidnapped children, to a sea of merfolk, pirates, and a giant crocodile.
A boy who calls himself Peter Pan.
In partnership with We Need Diverse Books
Praise for Sisters of the Neversea
"While Smith wields Barrie's storyteller voice, writing from a head-hopping omniscient voice that addresses readers directly, this is less a retelling and more a rebuttal, critiquing the problematic aspects of the classic—often quite overtly—and the consequences of such harmful influences are explored over the course of much action, adventure, and magical island exploration. An exciting journey in its own right and a necessary "recommend-along" for patrons seeking Barrie's original." — Booklist (starred review)
"Short chapters, plenty of action, and the wry voice of the omniscient narrator help make this title, with its themes of gender equity, Native pride, and environmentalism, accessible. A refreshing adventure that breathes new life into a classic text." — Kirkus Reviews (starred review)
"A sharp, contemporary retelling of a classic that puts the focus on the Indigenous kids this round." — Publishers Weekly (starred review)
"Any reader looking for a brilliant, suspenseful fantasy adventure should find Sisters of the Neversea thrilling and tremendously fun." — Shelf Awareness (starred review)
"A wondrous story skillfully hung on the framework of Peter Pan, but Smith makes it all her delightful own. Full of fantastic storytelling, thrills, and humor." — School Library Journal (starred review)
"Ultimately, the novel offers redemption not just for Peter but for many of Neverland's other characters as well. With expertly shifting perspectives, an oft-broken fourth wall and subtle but firm remedies to elements of the story best left in the past, Sisters of the Neversea is a welcome new addition to the legend of Peter Pan." — BookPage
"In her reimagining of a classic, Smith gives readers a decidedly modern look at the magic, adventure, and mystery of Barrie's Peter Pan, without its derogatory depictions of Indigenous people... This smart and engaging middle-grade novel intertwines bits of Barrie's language, some strong and resourceful Indigenous kids, and themes of the importance of family and the powerful bonds of sisterhood into an original and wholly satisfying bit of magic." — Horn Book Magazine