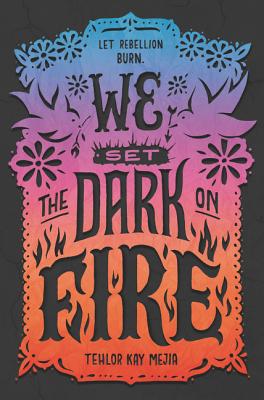 We Set the Dark on Fire
Publication Date:
February 26th, 2019
Publisher:
Katherine Tegen Books
Second Star to the Right
1 on hand, as of Nov 28 6:21am
(Young Adult )
On Our Shelves Now
There are only two outcomes when you finish at the Media School for Girls: a Primara, or First Wife, who is to act as the partner to her husband and run his household, or a Segunda, or Second Wife, who is in charge of being beautiful and bearing his children. Each man gets one of each. Dani is the school's best student and the top Primara pick, so it's no surprise when she's chosen by the candidate favored to become their country's next president. But Dani has a past that she will do everything in her power to protect. If you enjoy The Handmaid's Tale, but are looking for a YA twist, this is the book for you. I definitely recommend this one.
Spring 2019 Kids Indie Next List
Description
"We Set the Dark on Fire burns bright. It will light the way for a new generation of rebels and lovers." —NPR
"Mejia pens a compelling, gripping story that mirrors real world issues of immigration and equality." —Buzzfeed
Five starred reviews!!
In this daring and romantic fantasy debut perfect for fans of The Handmaid's Tale and Latinx authors Zoraida Córdova and Anna-Marie McLemore, society wife-in-training Dani has a great awakening after being recruited by rebel spies and falling for her biggest rival.
At the Medio School for Girls, distinguished young women are trained for one of two roles in their polarized society. Depending on her specialization, a graduate will one day run a husband's household or raise his children. Both paths promise a life of comfort and luxury, far from the frequent political uprisings of the lower class.
Daniela Vargas is the school's top student, but her pedigree is a lie. She must keep the truth hidden or be sent back to the fringes of society.
And school couldn't prepare her for the difficult choices she must make after graduation, especially when she is asked to spy for a resistance group desperately fighting to bring equality to Medio.
Will Dani cling to the privilege her parents fought to win for her, or will she give up everything she's strived for in pursuit of a free Medio—and a chance at a forbidden love?
Praise for We Set the Dark on Fire
"We Set the Dark on Fire burns bright... it will light the way for a new generation of rebels and lovers." — NPR.org
"With its achingly slow-burn romance and incisive examination of power structures, this is a masterfully constructed novel, made all the more impressive as it's a debut." — ALA Booklist (starred review)
"A richly constructed world full of fantasy and diversity, with a mystery that will keep them guessing until the very end." — School Library Journal (starred review)
"This fierce, feminist novel throws memorable characters into a provocative set of circumstances, and the constant twists will leave readers yearning for the conclusion." — Publishers Weekly (starred review)
 "This well-crafted fantasy offers a mirror that reflects themes in our own difficult world, namely privilege, immigration, and individualism versus the common good. A queer subplot with sensual tenderness adds rich complexity to the story. Thrilling and timely." — Kirkus Reviews (starred review)
Reminiscent of Margaret Atwood's The Handmaid's Tale, We Set the Dark on Fire burns with parallels to today's biggest news headlines. Readers will walk away with thought-provoking questions to ponder, and the story's ending will ignite further fascination. — BookPage (starred review)
"Mejia's debut creates a lush and beautiful Latinx-inspired world featuring complex female characters. With thrilling adventure, unexpected twists and a cliffhanger ending, readers will clamor for the next installment." — Shelf Awareness (starred review)
"Mejia pens a compelling, gripping story that mirrors real world issues of immigration and equality." — Buzzfeed
"We Set the Dark on Fire is dystopian YA as you've only dreamed it could be. Mejia's story is specific yet universal, intricate and vast; it's fire and smoke and the phoenix rising from the ashes." — Tor.com
"With lots of action and palace intrigue, the novel is a page turner." — New York Journal of Books
"Tehlor Kay Mejia makes an impressive debut in this thrilling tale of political intrigue… The author offers terrific suspense, compelling Latina heroines, a sizzling, forbidden romance and an interesting political backdrop of a nation with an entire mythology and founding narrative that conveniently supports the status quo." — Buffalo News
"Frequent twists and turns and questions of whom to trust make for a page-turner,
as does a clandestine queer romance. Unresolved questions at the fiery end are
likely to leave readers eager for the promised second half of the duology."
— The Horn Book
"Tehlor Kay Mejia has fashioned a gripping tale of romance and rebellion. Dani captivated me and held my heart in a vice grip all the way to this book's stunning conclusion." — Tochi Onyebuchi, author of Beasts Made of Night
"We Set the Dark on Fire simmers with political revolution and forbidden love between two powerful young women—I couldn't put it down." — Audrey Coulthurst, author of Of Fire and Stars
"A vivid tale of political intrigue, power, and resistance that will thrill the hearts of readers." — New York Times bestselling author Traci Chee
"A stunning debut. Tehlor Kay Mejia weaves a gorgeous narrative where etiquette can be wielded like a weapon and where wit can be just as powerful as a sword." — Rin Chupeco, author of The Bone Witch
"Mejia's given us a gift in this lush, rebellious, queer, Latinx story." — Latinxs in Kid Lit
"Magical, explosive and fierce, We Set The Dark on Fire is a book that reminds readers that power is in the people and change starts the fire within their veins." — The Young Folks.com